Course Overview
In this course, students will be introduced to the uses and management of social media within an organization. This course is also uniquely positioned to be taught online, as much of the type of work examined and learned in class may often take place remotely or in hybrid forms in social media and data analytical positions post college education. We'll explore how organizations can leverage social media as a part of their business processes, and examine the many roles, skills, and attributes required of social media managers.
Students will learn how organizations manage social media, develop social media strategies, select social media platforms, create viral content, and measure the social media return on investment. Students will be introduced to opportunities and challenges that organizations and social media managers face through hands-on activities, analyzing and discussing case studies, and examining the social media strategies of contemporary organizations.
All students who successfully complete the course will receive a Certificate of Completion and have the opportunity to request a Syracuse University noncredit transcript.
Course Objectives
Understand the affordances and limitations of social media for communicating
Understand the complex, changing organizational structures that social media has brought about
Understand the issues and challenges social media workers must negotiate when working with social media in organizations
Analyze the social media strategies of contemporary organizations or businesses
Understand and analyze strategic communication messaging through social media
Course Information
Course Prefix and Number: TBD
Format: Online
Eligibility: Students must be of rising high school sophomore, junior, or senior status – or a 2022 high school graduate.
Credit: Noncredit
Grading: Pass/Fail
Cost: $2,500
Program rates are subject to change and will be approved by the board of trustees. Discounts and scholarships are also available.
---
Program Information
Summer College – Online: Explore college life before stepping foot on campus! High school students can enroll in a college-level course, pursue their academic interests, and meet likeminded students in daily virtual events and activities.
---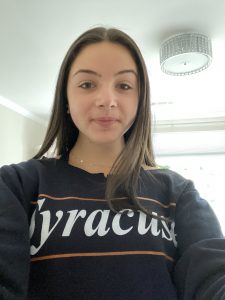 "I love social media however I knew nothing about the analytic aspect and was eager to learn all about it. This class was not like any class I have taken before because even though there was a syllabus and specific guidelines, each student was given the freedom to create and design every project in the way they saw it should be done. Professor Sebastian showed us there is much more to social media than a like or a view or even a comment."

—Lauren K., Summer College – Online Social Media Strategy and Analytics Student, 2020
---
Course Dates and Details
Program
Course Dates
Synchronous Class Time (Eastern Time)
Credit/Noncredit
Status
Summer College -Online
3-Week Session II: Monday, July 25 – Thursday, Aug. 11, 2022
MTWTh
5-7 p.m.
Noncredit
Closed
Class times subject to change.
---
Course Requirements
Technology Requirements
Laptop or desktop computer with a webcam
Reliable internet access
A space conducive to taking an online class (without distractions)
Required Supplies
Students should budget for the cost of supplies and textbooks. A supply and textbook list will be sent to students before the start of the program.
Typical Day
Tentative Schedule
The class will meet via video conferencing daily Monday through Thursday from 5-7 p.m. EDT. Classes are a mixture of lecture, small group work, and student discussion. Students can expect 5-7 hours of reading or written work per week.
When class is over, and on weekends, students can look forward to various Summer College virtual activities to meet and connect with other students across the world. Check out our Virtual Campus Experience page for more information!
Faculty Bios
Melinda Sebastian, PhD
Melinda Sebastian, PhD, is an ACLS Leading Edge Fellow for Data & Society. She received her PhD in Communication, Culture, and Media from Drexel University and her Bachelor's degree in Anthropology from New York University, and teaches Information Policy and Social Media Strategy & Analytics at Syracuse University. Her research utilizes an intersectional ethical approach that focuses on structural inequalities in emergent ethical issues in media, technology, and information policy.
---
Additional courses you might like…