Course Overview
More and more, it is becoming vital that students ensure that their digital skills are up to the test in today's fast-paced creative environment. Today's "Digital Native" students make them familiar with technology – students often have gaps in their digital knowledge that prevent them from working as creatively and efficiently as possible.
This project-based class will take students through a series of applications that are vital in the creative space. With a focus on the Adobe Creative Suite, students will learn the best practices for their work as well as how to leverage the new features and technologies in their high school work, college courses, and beyond.
Students will be required to work on producing a variety of multimedia pieces as digital teams on tight deadlines – like Newhouse courses during the semester and in real world applications. The projects can range from audio news pieces, to short form / Tik Tok content using motion graphics and more. Students will use the Creative Suite software to work on their projects and augment their "quick-turn" skills by creating and sharing content through Adobe Creative Cloud Express.
All students who successfully complete the course will receive a Certificate of Completion and have the opportunity to request a Syracuse University noncredit transcript.
Course Objectives
Use Adobe Illustrator to create a vector-based logo for branding.
Explore how to use Photoshop to create a realistic composite.
Learn how to use Adobe Audition for creating a sample audio podcast.
Develop techniques in Premiere to create a short form story.
Develop TikTok oriented content for branding and awareness.
Use Adobe Creative Cloud Express to showcase their ideas.
Develop simple motion graphics using Adobe After Effects
Leverage MOGRT templates to increase production value in their multimedia projects.
Course Information
Course Prefix and Number: SCN 113
Format: On Campus (at Syracuse University)
Eligibility: Students must be of rising high school sophomore, junior, or senior status – or a 2022 high school graduate.
Credit: Noncredit
Grading: Pass/Fail
Cost:
Residential: $3,585
Commuter: $2,730
Newhouse Scholarship:
A course-based scholarship opportunity is available to students who apply for pre-college courses out of the Newhouse School. Applicants who select a Newhouse course will automatically be considered for the Newhouse scholarship without the need for an additional essay.
Program rates are subject to change and will be approved by the board of trustees. Discounts and scholarships are also available.
---
Program Information
Summer College – On Campus: Experience what college is really like: take a college-level course, live in a residence hall, have meals with friends in a dining hall, and participate in activities and events on campus.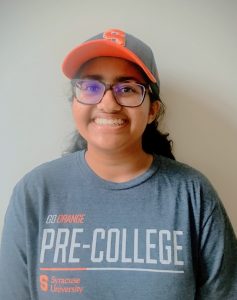 "Doing this program as a rising junior helped me gain confidence to choose my career path, set relevant goals, and understand what classes to take during high school."

– Nivedita G., Summer College – Online Student, 2021
---
Course Dates and Details
| Program | Course Dates | Class Time (Eastern Time) | Credit/Noncredit | Status |
| --- | --- | --- | --- | --- |
| Summer College – On Campus | 2-Week Session II: Sunday, July 17 – Friday, July 29, 2022 | TBD | Noncredit | Closed |
Students will break for roughly one hour for lunch.
Course Requirements
Typical Day
Tentative Schedule
Coming soon!
When class is over, and on weekends, students can look forward to various Summer College – On Campus activities to meet and connect with other students! Check out our On Campus Experience page for more information!
Faculty Bios
Professor Rafael "RC" Concepcion
Professor Rafael "RC" Concepcion is an award-winning photographer, podcast host, educator and author of thirteen best-selling books on photography, Photoshop, Lightroom and HDR photography. He works as a Digital Post Production Specialist at the S.I. Newhouse School of Public Communications.
Professor Concepcion has worked closely with Adobe Systems, offering advice and counsel on the development of Photoshop and Lightroom, with an emphasis on user outreach. As a certified Adobe instructor in Photoshop and Lightroom, he has authored the Adobe Certified Expert exam for Photoshop CS6, Lightroom 4 and Lightroom 5.
Professor Concepcion has also authored the Adobe Classroom in a Book series for Photoshop and Lightroom – the official curriculum for Adobe worldwide. He is Adobe Certified Instructor and has a Bachelor of Arts degree in Secondary Education/English from SUNY Plattsburgh.
Professor Concepcion runs his own production company, responsible for creating educational content and video productions for clients such as Intel, Dell, Epson, Nikon, Canon, Samsung, Nokia, Sandisk, Western Digital, Monogram, G-Technology, Google, Creative Live and PricewaterhouseCoopers, among others.
---
Additional courses you might like…