Course Overview
New for 2022!
Welcome to the Greatest Ads in the Universe.
What makes an award-winning ad? You'll find out in ADV 201. Each week you'll take an in-depth look at the top Award-Winning ads. You'll see creative excellence from around the world. You'll learn who created them and why. You'll be enlightened and (hopefully) entertained.
Advertising is one of the most fun, dynamic, fast, ever-changing and stressful businesses in existence. If you like a challenge…if you like innovation…if you like creative problem-solving…if you like a look behind the scenes, you are in the right place!
In Short:
You will learn the basics of the ad business and what advertising professionals, advertising agencies and brand marketers strive to do – create the greatest advertising in the world.
This class is also open to Syracuse University undergraduate students.
All students who successfully complete the course will receive a Certificate of Completion and have the opportunity to request a Syracuse University credit or noncredit transcript.
Course Objectives
CONNECT: The role of the advertising industry to society, culture and the global economy
COMPARE: Communications problem solving and the effective promotion of brands and ideas
CRITIQUE: The ethical, legal and effective use and abuse of advertising in society.
Course Information
Course Prefix and Number:
Format: Online
Eligibility: Students must be of rising high school sophomore*, junior, or senior status – or a 2022 high school graduate.
*Rising sophomores are only eligible for the noncredit version of this course.
Credit: 3 Credits or Noncredit
Grading:
Credit: A-F
Noncredit: Pass/Fail
Newhouse Scholarship:
A course-based scholarship opportunity is available to students who apply for pre-college courses out of the Newhouse School. Applicants who select a Newhouse course will automatically be considered for the Newhouse scholarship without the need for an additional essay.
Program rates are subject to change and will be approved by the board of trustees. Discounts and scholarships are also available.
---
Program Information
Summer College – Online: Explore college life before stepping foot on campus! High school students can enroll in a college-level course, pursue their academic interests, and meet likeminded students in daily virtual events and activities.
"Beyond the academic aspects of the Summer College, I was enthralled by the initiative the administration took to create a sense of community within the program. During quarantine, I found it very difficult to connect with friends and family. However, the daily events and games hosted by Syracuse gave me something to look forward to and allowed me to meet so many different people."

– Abhi K., Summer College – Online Student, 2021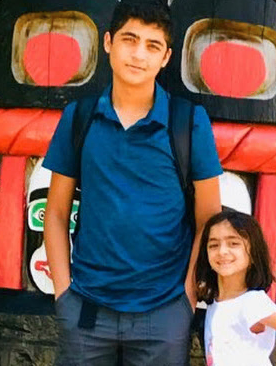 ---
Course Dates and Details
| Program | Course Dates | Synchronous Class Time (Eastern Time) | Credit/Noncredit | Status |
| --- | --- | --- | --- | --- |
| Summer College – Online | 3-Week Online Session I: Tuesday, July 5 – Thursday, July 21, 2022 | MTWTh*, 9 – 11 a.m. | 3 credit | Closed |
*July 4 is an observed holiday and students will have class on Friday, July 8 and then all subsequent synchronous class will run according to the schedule above.
---
Course Requirements
Technology Requirements
Laptop or desktop computer with a webcam and mouse
Reliable internet access
A space conducive to taking an online class (without distractions)
Required Supplies
Students should budget for required textbooks and supplies. A supply and textbook listing will be sent to students before the start of the program.
Typical Day
Tentative Schedule
Students will be required to attend live synchronous class via videoconferencing. More info coming soon.
When class is over, and on weekends, students can look forward to various Summer College virtual activities to meet and connect with other students across the world. Check out our Virtual Campus Experience page for more information!
Faculty Bios
Edward Russell
Ed Russell spent 25 years in the advertising business working for some of the largest and best-known firms in the world. He has worked on most every product category in nearly every market around the globe.
He began his advertising career as a copywriter with one of the most awarded agencies in Chicago. Following graduate school, he went to work for Saatchi and Saatchi in New York City. In 1989, he moved to Frankfurt, Germany as European account director of Saatchi & Saatchi's largest business. The Berlin Wall came down six months after he arrived, and suddenly he had the job of opening a dozen new offices all over Eastern Europe.
After his stint in Germany, Russell moved east to become CEO of Leo Burnett's office in Warsaw, Poland. Though the country initially had no advertising business, the Warsaw office became Leo Burnett's third most award-winning office and the fastest-growing advertising agency in the world.
Russell later moved to Leo Burnett's Chicago headquarters, where he led the agency's Procter & Gamble international business. Russell was responsible for over 300 brands in 98 countries and managed nearly $1 billion in billings. The agency won more new business from P&G during this time than in their entire history.
Russell wrote Leo Burnett's international training program, "LeoSmarts." He is the author of "The Fundamentals of Marketing" from AVA Publishing and Advertising, Selling in Today's World" from StuKent Publishing.
---
Additional courses you might like…