Course Overview
This class provides students with the background information and theoretical tools required to comprehend and analyze the past and contemporary international events at the introductory level. The class will initially introduce students to the main theoretical traditions developed in the discipline of international relations over the decades. Then, it will be focused on the main areas of study in international relations such as statecraft, foreign policy, conflict and war, terrorism, international integration and trade, international law and human rights, environmental issues, and global economy. The class will familiarize students with international processes and interactions and enable them to recognize and appreciate the complexity and interconnectedness of international politics. Throughout the semester, the key concepts and puzzles of the discipline such as the nature of anarchy, sources of power, causes of war, the role of non-state actors, functions of international regimes, and the future of international relations will be scrutinized. Beyond the use of the textbook and the lecture slides, the class will be enriched with a wide variety of activities such as documentary screenings, guest lectures, and simulations. Students' active participation and involvement will be routinized through the assignment of individual and team projects as well as in-class group discussions.
This course may consist of both Summer College – Online students and Syracuse University undergraduates.
All students who successfully complete the course will receive a Certificate of Completion and have the opportunity to request a Syracuse University credit transcript.
Course Objectives
At the end of this class, students should be able to:
Apply the main theories of IR to comprehend and account for international interactions, relations and processes at the basic level.
Form and present informed oral and written arguments on international events and developments.
Understand and explain the key terms and events in international relations.
Better understand the international affairs section of a prominent newspaper which they read on a regular basis.
Improve their critical thinking, writing and reading abilities and skills.
Course Information
Course Prefix and Number: PSC 124
Format: Online
Eligibility: Students must be of rising high school junior, or senior status – or a 2022 high school graduate.
Credit: 3 credits
Grading: A-F
Cost: $2,985
Program rates are subject to change and will be approved by the board of trustees. Discounts and scholarships are also available.
---
Program Information
Summer College – Online: Explore college life before stepping foot on campus! High school students can enroll in a college-level course, pursue their academic interests, and meet likeminded students in daily virtual events and activities.
---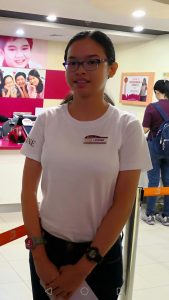 "All in all, my Syracuse Pre-College Experience inspired and motivated me to continue to be myself and do what I enjoy most. It also encouraged me to not be afraid to try new things out, most especially studying abroad. It has changed the way I see things."

—Alexina A., Summer College – Online Student, 2021.
---
Course Dates and Details
Program
Course Dates
Synchronous Class Time (Eastern Time)
Credit/Noncredit
Status
Summer College -Online
3-Week Session I: Tuesday, July 5 – Thursday, July 21, 2022
MTWTh*
3 – 4:30 p.m.
3 Credits
Closed
*July 4 is an observed holiday and students will have class on Friday, July 8 and then all subsequent synchronous class will run according to the schedule above. Class times subject to change.
---
Course Requirements
Technology Requirements
Laptop or desktop computer with a webcam and mouse
Reliable internet access
A space conducive to taking an online class (without distractions)
Required Supplies
Students should budget for required textbooks and supplies. A supply and textbook listing will be sent to students before the start of the program.
Typical Day
Tentative Schedule
Students must attend live synchronous online sessions Monday – Thursday, 3 – 4:30 p.m. Eastern Time. Students will have class the first Friday to make up for the holiday on Monday, July 4. Synchronous course times are subject to change.
When class is over, and on weekends, students can look forward to various Summer College virtual activities to meet and connect with other students across the world. Check out our Virtual Campus Experience page for more information!
Faculty Bios
Sefa Secen, Political Science / Ph.D. Candidate
Sefa Secen is currently a doctoral candidate in the Political Science Department at the Maxwell School of Syracuse University. His general research interests include refugees, international security, Middle East, Europe, and qualitative research methods. His dissertation project examines the factors that enabled or constrained the securitization of Syrian refugees in the Middle East and Western Europe. Portions of his research have been published or are forthcoming in Global Security Studies, Forced Migration Review, and E-International Relations Journals.
---
Additional courses you might like…