Course Overview
New for 2022! If you are interested in using living organisms to solve real-world problems, biotechnology is for you. Biotechnology is one of the most important and rapidly expanding fields across the world. It is the basis of drug and vaccine development, biofuels, genetically modified organisms, regenerative medicine and much more. Biotechnology brings together the worlds of biology, chemistry, business management, public policy and engineering, by using living organisms to create marketable products.
In this summer STEM course, high school students will be introduced to cutting-edge biotechnology research by performing and analyzing laboratory experiments. We will have a poster session to communicate the results of our experiments. Students will meet and interview faculty from SU College of Arts and Sciences, the Whitman School of Management and the School of Engineering, as well as representatives from selected biotech companies, to learn about different career paths in biotechnology. As a final project, students will decide what interests them most about biotechnology and propose their own original and innovative biotechnology product.
All students who successfully complete the course will receive a Certificate of Completion and have the opportunity to request a Syracuse University noncredit transcript.
Course Objectives
Upon completing the course, students will be able to:
Discuss the main areas of newsworthy research in biotechnology.
Explain how biotechnology products are designed and produced.
Describe various careers and career pathways in biotechnology.
Analyze biotechnology products currently on the market and/or under development.
Identify real-world problems that could be addressed using biotechnology.
Course Information
Course Prefix and Number: SCN 083
Format: On Campus (at Syracuse University)
Eligibility: Students must be of rising high school sophomore, junior, or senior status – or a 2022 high school graduate.
Credit: Noncredit
Grading: Pass/Fail
Residential: $3,585
Commuter: $2,730
Program rates are subject to change and will be approved by the board of trustees. Discounts and scholarships are also available.
---
Program Information
Summer College – On Campus: Experience what college is really like: take a college-level course, live in a residence hall, have meals with friends in a dining hall, and participate in activities and events on campus.
---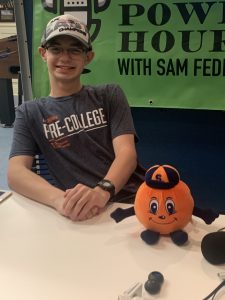 "I loved the program so much that I visited campus in early September!"

—Sam F., Summer College – Online Student, 2021
---
Course Dates and Details
| Program | Course Dates | Class Time (Eastern Time) | Credit/Noncredit | Status |
| --- | --- | --- | --- | --- |
| Summer College – On Campus | 2-Week Session II: Sunday, July 17 – Friday, July 29, 2022 | 11 a.m.-4 p.m. | Noncredit | Closed |
Class will break for lunch daily for approximately one hour. Class times subject to change.
---
Course Requirements
Required Supplies
Students should budget for required textbooks and supplies.
Typical Day
Tentative Schedule
Students must attend class on campus from 11am-4pm daily, with a break for lunch.
Students can look forward to various Summer College – On Campus activities to meet and connect with other students! Check out our On Campus Experience page for more information!
Faculty Bios
Ruth Phillips – Assistant Teaching Professor, Biology, College of Arts & Sciences
Education and Experience:
Visiting Assistant Professor of Biology, North Carolina Central University, Durham NC (2004-2017)
Postdoctoral Fellow, National Institute of Environmental Health Science, Research Triangle Park, NC (2003-2004)
Ph.D., Pharmacology and Cancer Biology, Duke University, Durham NC (2002)
B.S., Neuropsychology and Anthropological Zoology, University of Michigan, Ann Arbor, MI (1994)
Research and Teaching Interests:
Biotechnology, Cell Biology, Genetics and Cancer Biology –
Cancer treatments using signal transduction, cell cycle regulation.
Post-translational gene regulation via AU-rich elements.
Nucleocytoplasmic shuttling and regulation of RNA binding proteins.
Broadening participation of underrepresented and underserved populations in biology and biotechnology fields through –
Course-based research in the undergraduate biology curriculum.
Implementing service-learning based science outreach programs in the community.
Developing strategies and techniques that build resiliency for students.
---
Additional courses you might like…