Course Overview
Science Fiction is a 6-week, 3-credit hybrid course that gives high school students the opportunity to take a college-level, credit-bearing course on campus for two weeks and then finish the remaining four weeks online from the comfort of your home – or wherever life takes you.
The origins and definition of Science Fiction are debated by fans and scholars all over the world. Likewise, scholars continue to debate the value of the genre as Literature with a capital L.
In the early years, the loudest voices (not the only voices) in the genre were the usual: white men speculating about white men and their creations and encounters—in some other world or in our own, in the future or in our own time. We will read many of these works to both critique this myopia we have come to recognize as part and parcel to the broader literary canon, AND to appreciate the imagination and invention of these writers as they attempted to envision possible worlds and scientific discoveries. We will examine and challenge the racism and sexism of the early writers, especially the notorious H.P. Lovecraft.
In recent years, women writers, queer writers, and writers of color have been given much more well-deserved attention for their contributions, not only to the social critiques, but also to expanding the hard scientific imagination of the genre. We will ask questions about how these authors have shifted the science fictional conversation, and how they've expanded scholarly approaches to science fiction.
We will also inquire about how the genre speaks to the humanist issues of its time at each moment in time—war, industry, social upheaval and change, racism and sexism, climate catastrophe, and more. In this course, we will take Science Fiction seriously as we explore possible beginnings, movements, subgenres and shifts within Science Fiction short stories and novels, as well as some television. Many of us are fans of the genre, creating a different kind of attachment to the texts and authors we will read than other forms of literature, and we will think about how that fandom influences readings of these works. We will look at U.S. American and British Science Fiction texts, as well as several from around the world, ranging from the 18th century onward.
All students who successfully complete the course will receive a Certificate of Completion and have the opportunity to request a Syracuse University credit transcript.
Course Objectives
Students will:
Recognize how meanings are created through acts of critical reading and analysis
Students will analyze science fiction texts using various theoretical paradigms for literary and cultural studies
Analyze texts in relation to their historical contexts—the class will look at a few different movements within the history of the Science Fiction genre and consider the social and scientific issues of those times and examine how the language and story tropes reflect those concerns and comment upon them.
Analyze texts as bearers of political meaning and mediators of power relationships. Because Science Fiction as a genre is invested in imagining other ways of living and possible worlds, it is often a direct effort to imagine solutions to and/or future crises within social and cultural problems
Analyze the ways texts construct categories of difference, including differences of race, ethnicity, nationality, gender, sexuality, and class. Within Science Fiction, these issues play out on multiple registers, and allegorical presentations of social structures and hierarchies,
Formulate sustained interpretive, analytical, or conceptual arguments based on evidence drawn from texts—this comes from in-class discussion, group work, and short responses essays, and creative work.
Develop skills for creative self-expression in fiction or poetry—students are allowed, though not required, to write creatively for their final project in the course. We will also do some world-building and other imaginative exercises over the semester.
Course Information
Course Prefix and Number: ENG 125
Format: Hybrid (2 weeks at Syracuse University, 4 weeks online)
Eligibility: Students must be of rising high school junior or senior status – or a 2022 high school graduate.
Credit: 3 credits
Grading: A-F
Cost:
Hybrid Residential-Online: $4,385
Hybrid Commuter-Online: $3,530

Program rates are subject to change and will be approved by the board of trustees. Discounts and scholarships are also available.
---
Program Information
Summer College – Hybrid: Combine on campus and online study. Experience Syracuse University on campus for two-weeks and complete the final four-weeks of your course online from the comfort of your own home – or wherever life takes you!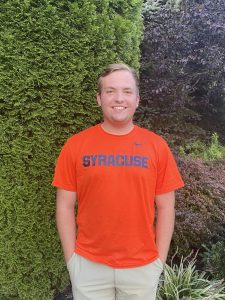 "Syracuse University's Summer College was a wonderful experience and opportunity I was fortunate to be accepted into."

-Matthew S., Summer College – Online Student, 2021
---
Course Dates and Details
Program
Course Dates
Class Time (Eastern Time)
Credit/Noncredit
Status
Summer College – Hybrid
On Campus Session: Sunday, July 3 – Friday, July 15, 2022
Online Session: Monday, July 18 – Friday, Aug. 12, 2022
On Campus Class Time:
MTWThF; 9 a.m. – noon
Synchronous Online Class Time: MTWTh; 6 – 7:30 p.m.
3 credits
Closed
Class times subject to change.
---
Course Requirements
Technology Requirements
Laptop or desktop computer with a webcam
Reliable internet access
A space conducive to taking an online class (without distractions)
Required Supplies
Students should budget for required textbooks and supplies.
Typical Day
Tentative Schedule
Generally, we would begin with some opening thoughts on the day's reading – this will generally be one or two short stories. I have visual presentations and powerpoints to go along with each story/ historical movement/ subgenre of science fiction, and so some time will be spent with me offering some lecture/ contextualization of the texts in terms of author, publisher (especially important in SciFi), subgenre, and historical moments, as well as address some critical viewpoints on the work. Then, you will be asked questions of the text – apply it to the reading to build your own lines of inquiry and point to specific parts of the stories to unpack.
Faculty Bios
Katherine Kidd
Katherine Kidd is Assistant Teaching Professor and English Studies Coordinator in the English Department at SU. She earned her BA at the University of Colorado in 2006, and her PhD at the University of Pittsburgh in 2016. Her teaching areas at Syracuse University are science fiction, working-class literature, LGBTQ studies, and graphic novel. She is also a raging trekkie.
---
Additional courses you might like…