Course Overview
This three-credit course is designed to introduce the student to three types of creative writing—poetry, fiction, and mixed literary forms—and the craft and skills needed to write effectively in each. The course will focus on the techniques of evocative, compelling writing across all literary genres (e.g., narration, significant detail, lyricism, image, metaphor, voice, tone, structure, dialogue, characterization). Students will read and analyze work by authors from the various traditions and produce creative work in each genre. Students will produce their own creative work and receive feedback from their instructor and their peers. English 105 prepares students for upper-level creative writing courses in fiction and poetry.
ENG 105, for which there are no prerequisites/co-requisites, is relevant to anyone majoring in English as well as students from other colleges and disciplines unable to major in English but who have an interest in creative writing. This is a gateway course designed to introduce students to the various genres taught in the Creative Writing Track. Taking (and passing) ENG 105 is one way to fulfill the 100-level requirement for the Creative Writing major/minor.
All students who successfully complete the course will receive a Certificate of Completion and have the opportunity to request a Syracuse University credit transcript.
Course Objectives
Students will:
Be able to define terms and discuss formal concepts essential to the study of poetry, fiction, mixed literary genres, and the creative process.
Hone writing craft, style, and mechanics in the following genres: poetry, fiction, and mixed literary genres.
Develop strategies for revising and editing their writing, making use of concepts discussed in class and feedback from their instructor and their peers.
Read, analyze, and evaluate published work from the writer's perspective.
Course Information
Course Prefix and Number: ENG 105
Format: Hybrid (2 weeks at Syracuse University, 4 weeks online)
Eligibility: Students must be of rising high school junior or senior status – or a 2022 high school graduate.
Credit: 3 credits
Grading: A-F
Cost:
Hybrid Residential-Online: $4,385
Hybrid Commuter-Online: $3,530

Program rates are subject to change and will be approved by the board of trustees. Discounts and scholarships are also available.
---
Program Information
Summer College – Hybrid: Combine on campus and online study. Experience Syracuse University on campus for two-weeks and complete the final four-weeks of your course online from the comfort of your own home – or wherever life takes you!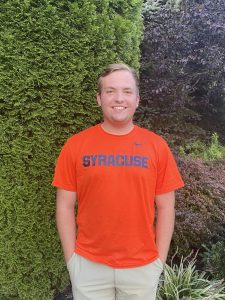 "Syracuse University's Summer College was a wonderful experience and opportunity I was fortunate to be accepted into."

-Matthew S., Summer College – Online Student, 2021
---
Course Dates and Details
Program
Course Dates
Class Time (Eastern Time)
Credit/Noncredit
Status
Summer College – Hybrid
On Campus Session: Sunday, July 3 – Friday, July 15, 2022
Online Session: Monday, July 18 – Friday, Aug. 12, 2022
On Campus Class Time:
MTWThF – 10 a.m.-noon
& 1-3 p.m.
Synchronous Online Class Time:
MTWTh – 6-7:30 p.m.
3 credits
Closed
Class times subject to change.
---
Course Requirements
Technology Requirements
Laptop or desktop computer with a webcam
Reliable internet access
A space conducive to taking an online class (without distractions)
Required Supplies
Students should budget for required textbooks and supplies.
Typical Day
Tentative Schedule
Students will engage in discussion of readings on an analytical and craft level, receive lectures about literary forms/moments/authors/histories relevant to an introductory creative writing course, engage in in-class analytical and creative exercises, and workshops to discuss and critique their writing.
4 – 6 hours of reading per week outside of class, depending on the genre and student's reading speed, ~2 hours a week writing their own work outside of class and commenting on their peers work.
In-class hours split between analyzing discussing the readings, in-class creative and analytical prompts, and workshops centered on the work the produce outside of class.
Faculty Bios
Allison Hoback
Allie Hoback is a poet from southwest Virginia. She earned an MFA in creative writing from Syracuse University, where she held various editorial positions for Salt Hill Journal. She earned a BA in English with a minor in anthropology from Virginia Commonwealth University, where she was a literary intern and copyeditor for Blackbird. Her work has appeared in New Ohio Review, Hobart, THE BOILER, and elsewhere.
---
Additional courses you might like…