Course Overview
The Team and Leadership Academy is an in depth look at leadership through the lens of an experiential education model. Using a multi-faceted approach, students learn about leadership styles, effective communication, teamwork, what it means to be a leader in today's society, and how to utilize these skills in order to better understand themselves and their own leadership style. Students will have the opportunity to work through team challenges, participate in a variety of high and low ropes course elements, complete a community service project, take part in lectures from leaders on SU's campus, and put what they've learned about teamwork to the test with a white water rafting experience.
The Summer College Team and Leadership Academy challenges students to safely push through their comfort zones, test their understanding of what it means to be a member of a team, and the qualities of good leadership. Critical skill development will be at the core of this experiential program. Students will explore and develop their skills in communication, trust, collaboration, creativity, adaptability, and problem solving.
This adventure in teamwork and leadership will kick your summer into high gear! Following the initial program orientation and progressing through a series of team-oriented activities, icebreakers and initiatives on the SU Quad, the Outdoor Education Center on SU's South Campus will be the base of operations. Throughout the duration of the program, students will spend days working with peers on developing team and leadership development skills on SU's outdoor high element challenge course.
Students will also take part in multiple adventure day trips off-campus, including our culminating trip to the Black River in Watertown. The group will spend the day implementing everything learned over the course of the program by paddling through adventure class whitewater in an inflatable raft. Not only will students have an opportunity to experience all that the challenge course has to offer (including the 25- foot "Leap of Faith") but also "learn the ropes" of challenge course facilitation, along with a variety of leadership skills that will help students' journey to college. Understanding the value of community, trust building, effective communication, resiliency and determination, as well as the ability to think through and solve problems, not only as an individual, but also as a contributing member of a team will be paramount.
All students who successfully complete the course will receive a Certificate of Completion and have the opportunity to request a Syracuse University noncredit transcript.
Course Topics
Topics covered include but are not limited to:
Basic theory of leadership and experiential education
Stages of group development & group dynamics
Develop and enhance personal leadership skills
Effective group facilitation techniques
Students will learn and practice how to work effectively in groups
Apply what they've learned in a culminating real world experience
Course Information
Course Prefix and Number: SCN 039
Format: On Campus (at Syracuse University)
Eligibility: Students must be of rising high school sophomore, junior, or senior status – or a 2022 high school graduate.
Credit: Noncredit
Grading: Pass/Fail
Cost:
Residential: $3,585
Commuter: $2,730
Program rates are subject to change and will be approved by the board of trustees. Discounts and scholarships are also available.
---
Program Information
Summer College – On Campus: Experience what college is really like: take a college-level course, live in a residence hall, have meals with friends in a dining hall, and participate in activities and events on campus.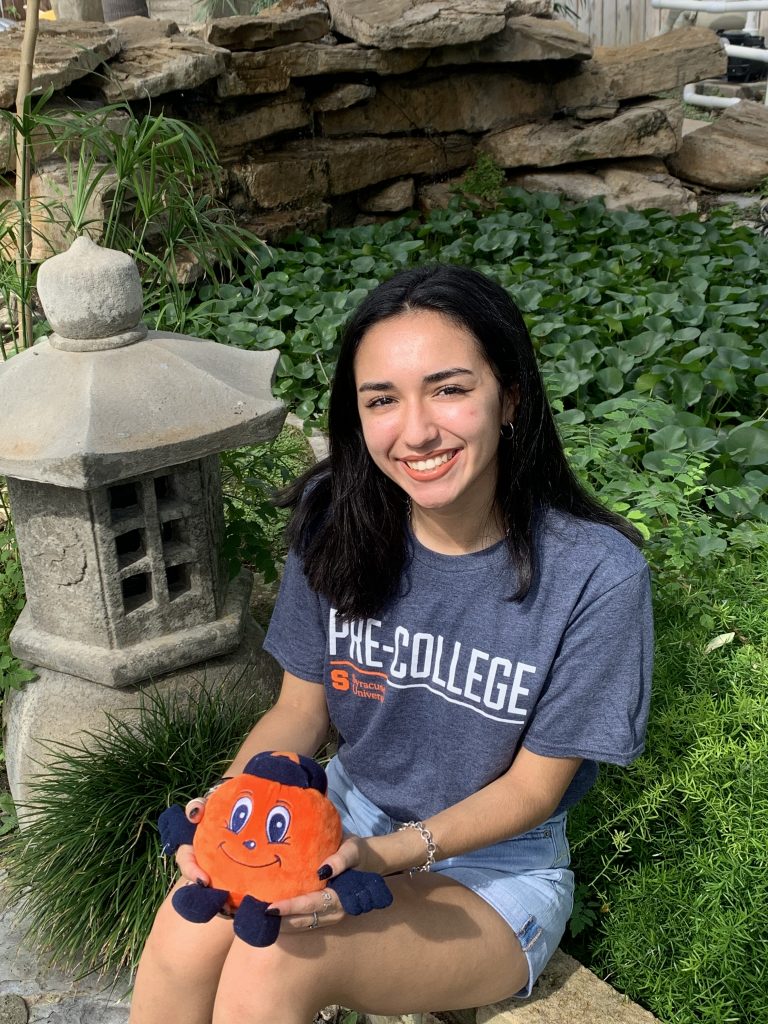 "The six week program was an amazing experience and I loved it. I loved meeting so many new people from around the world and I enjoyed all the weekly activities Syracuse had for all the students. This program was a wonderful experience that I will never forget. Go Orange!"

– Ruby Isabella F., Summer College Student, 2021
---
Course Dates and Details
Program
Course Dates
Class Time (EST)
Credit/Noncredit
Status
Summer College – On Campus
2-Week Session I: Sunday, July 3 –
Friday, July 15, 2022
MTWThF
9:30 a.m.-
4:30 p.m.
Noncredit
Closed
Summer College – On Campus
2-Week Session III: Sunday, July 31 – Friday, Aug. 12, 2022
MTWThF
9:30 a.m.-
4:30 p.m.
Noncredit
Closed
*Each session is the same course, only the dates are different. Students break for lunch daily for approximately one hour.
---
Course Requirements
Technology Requirements
Laptop or desktop computer with a webcam and mouse
Reliable internet access
A space conducive to taking an online class (without distractions)
Required Supplies
Students will need to bring the following:
Refillable Water Bottle
Athletic Style Clothing
Closed Toe Sneakers or Hiking Boots
Swimsuit or comfortable water clothing for whitewater rafting and swimming
Sunscreen
Access to any computer will be helpful as students are required to complete a few writing assignments.
A Positive Attitude!!
Student Expectations
Students will be fully engaged in the program. This includes active participation in all activities, being respectful of guest presenters, showing up on time, being prompt and prepared for the day, and not using a phone while in class sessions. Students should come to class with an attitude of openness and readiness to learn about themselves and develop into more well-rounded leaders and people.
Typical Day
Tentative Schedule
Hours will vary slightly, but for the most part the days will run 9:30 a.m. – 4:30 p.m., Monday – Friday. Students will arrive at the Outdoor Education Center (OEC) on south campus and will begin the day with discussion/games/team challenges. After that, students will begin the main activity for the day (high ropes, low ropes, etc.). Students will break for lunch and are able to go to the Goldstein Student Center on South Campus and will then return to complete the rest of the activities for the day.
When class is over, and on weekends, students can look forward to various Summer College – On Campus activities to meet and connect with other students! Check out our On Campus Experience page for more information!
Field Trips
In this course, you will go on several field trips.
Community Service Project Trip: In past years, this field trip consists of traveling to Fair Haven Beach State Park to pull invasive water chestnuts from the lake.
Day trip to Green Lakes State Park to learn about environmental ethics, group management, fire safety and learn more about the local geology and ecology.
White water rafting as culminating trip experience to Watertown, NY – Adirondack River Outfitters
Faculty Bios
Scott Catucci
With over 20 years of professional experience in the fields of Outdoor Recreation, Experiential Education and Team & Leadership Development, Scott Catucci currently serves as the Associate Director for Outdoor Education, Esports and Student Development within the Syracuse University Barnes Center at The Arch Recreation team. In this position since 2005, Scott oversees and administers a variety of program areas and facilities including outdoor adventure trips, challenge course, team and student development programming, indoor climbing wall, Esports gaming room as well as the cross country ski & snowshoe center. Scott has a B.S.E in Recreation Education and a M.A. in Management of Leisure Services. Before accepting his current position at Syracuse University, Scott was the Director of the Cayuga Nature Centers TEAM Challenge program which consisted of both a low and high element challenge course designed primarily to serve local and regional school groups.
Yaohui (Sandy) Paul-Wei
With 6 years of experience providing challenge course and teambuilding activities to the Syracuse University community and beyond, Sandy is currently serving as the Outdoor Education Coordinator within the Barnes Center at The Arch – Recreation team. In this role, Sandy manages the daily operations of the challenge course as well as all team and leadership development programming and the cross-country ski & snowshoe center at Drumlins. Holding a B.A. in International Relations and a M.S. in Sports Venue and Event Management from Syracuse University, Sandy is also a CPR/First Aid instructor, EMT and is fluent in Mandarin. Her instructional style is one of creating a fun and engaging learning environment and believes everyone has something valuable to share.
---
Additional courses you might like…