Course Overview
"The function of sociology, as of every science, is to reveal that which is hidden." – Pierre Bourdieu
Social Problems is an introductory-level sociology course in which we will try to understand and analyze social problems of the real world. Students will first learn how they can adopt a "sociological imagination," or a sociological lens, through which they can view social phenomena. Students will learn how to question the taken-for-granted assumptions about and seemingly-natural aspects of the world. Then, we will deeply engage with a variety of contemporary social problems, connecting each set of phenomena to real-world examples, including the COVID-19 pandemic, poverty and inequality, climate change, and racism. Through group activities, engaging discussions, guest speakers, and short personal essays that encourage students to grapple with their own personal experiences confronting social problems, students will gain an invaluable skill set to conceptualize and analyze past, present, and future social problems.
All students who successfully complete the course will receive a Certificate of Completion and have the opportunity to request a Syracuse University credit transcript.
Course Objectives
At the end of the course, students will be able to:
Explain and analyze social issues and phenomena through a sociological lens
Understand major social contemporary problems
Become familiar with major theories and discussions within the field of Sociology
Think critically about social issues
Course Information
Course Prefix and Number: SOC 102
Format: On Campus (at Syracuse University)
Eligibility: Students must be of rising high school junior or senior status – or a 2023 high school graduate.
Credit: 3 credits
Grading: A-F
Cost:
Residential: $4,535
Commuter: $3,590
Program rates are subject to change and will be approved by the board of trustees. Discounts and scholarships are also available.
---
Program Information
Summer College – On Campus: Experience what college is really like: take a college-level course, live in a residence hall, have meals with friends in a dining hall, and participate in activities and events on campus.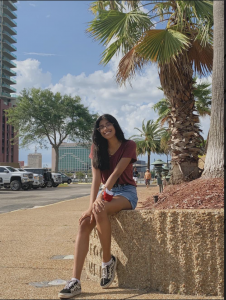 "As a result of taking this course, I have become more confident in my career choice, and I appreciate everything that I have learned in those three weeks at Syracuse University Summer College."

-Sumedha J., Summer College – Online Student, 2021
---
Course Dates and Details
Program
Course Dates
Class Time (Eastern Time)
Credit/Noncredit
Status
Summer College – On Campus
2-Week Session III: Sunday, July 30 – Friday, Aug. 11, 2023
MTWThF;
9 a.m.-1 p.m.
3 credits
Closed
Class times subject to change.
Course Requirements
Textbook Requirement
Click here to purchase your required textbooks from The Campus Store!
Please note, students are responsible for acquiring textbooks for this course. You will not be able to properly participate in this course if you do not get the proper materials. We strongly encourage you order your books to be picked up from The Campus Store, so that you can stop by and pick them up on your move-in day.
*If you are a sponsored student, you do not need to purchase your textbooks.*
Typical Day
Tentative Schedule
Students are required to attend class Monday – Friday from 9 a.m. – 1 p.m. A typical day is as follows:
9 -10 a.m. Lecture 1
10 – 10:40 a.m. Guest speaker, group exercise, class activity, or discussion
10:40 – 11 a.m. Break
11 – Noon Lecture 2
Noon – 12:40 p.m. Guest speaker, group exercise, class activity, or discussion
12:40 – 1 p.m. Review assignments and quizzes
When class is over, and on weekends, students can look forward to various Summer College – On Campus activities to meet and connect with other students! Check out our On Campus Experience page for more information!
Guest Speakers
Guest speakers may include local experts on specific social problems, such as climate change or poverty. Guest speakers will be invited to attend class and will speak for no longer than an hour with built-in time for student Q&A and discussion.
Faculty Bios
Katherine Mott
Katherine Mott is a Sociology PhD student in the Maxwell School of Citizenship and Public Affairs. Her research interests examine the intersection of urban poverty and low-wage, precarious work.
Passionate about math and science from a young age, Katherine graduated from SUNY College of Environmental Science and Forestry with a Bachelor of Science in Environmental Engineering in 2015. After working as a water engineer designing green storm water infrastructure plans for the City of Philadelphia, Katherine pursued her growing interest in food insecurity and urban poverty. She obtained an M.S. in Food Studies from Syracuse University in 2019 after conducting thesis research on the impacts of a longstanding, locally-owned cornerstone grocery store closing in Syracuse's predominantly Black and Latino low-income Near Westside neighborhood. Prior to returning to graduate school for her PhD in Sociology, Katherine worked as a data analyst for a state-funded anti-poverty initiative, Greater Syracuse HOPE.
---
Other courses you may be interested in…