Course Overview
This course gives young students the opportunity to learn and work in a state of the art music production facility with experienced professionals. Students will be introduced to both the art and science of audio engineering as relates to modern music production. Students will gain familiarity with working both inside and outside of the box. Students will have the opportunity to experience creating music with modern, industry standard tools including a Neve Genysys mixing console, hardware from Manley, Avalon, Millenia, Tube Tech and Empirical Labs (among others), microphones from Neumann, Royer, and Coles (among many others), and Pro Tools, Waves, and Native Instruments (among others) software. Students will additionally be able to experience vintage equipment from Neve, Pultec and others.
This course is designed for high school student who have a background in music and are interested in learning about Music Production and Audio Engineering in a professional recording studio.
See Visit the VPA website for a detailed list of gear.
Note the Audition Requirement when applying.

All students who successfully complete the course will receive a Certificate of Completion and have the opportunity to request a Syracuse University noncredit transcript.
Course Objectives
In this course, students will:
Explore and learn the functionality of a State of the Art Music Production Studio
Further collaborative skills as an engineer, producer or studio musician
Develop music production techniques both in the DAW and in the studio
Understand the differences between microphone types and how to implement them
Understand the differences between analog outboard gear and plugins
Course Information
Course Prefix and Number: TBD
Format: On Campus (at Syracuse University)
Eligibility: Students must be of rising high school sophomore, junior, or senior status – or a 2022 high school graduate.
Audition Requirement: Student must submit an audition/performance video, demonstrating facility with an instrument or music technology
Credit: Noncredit
Grading: Pass/Fail
Cost:
Residential: $3,585
Commuter: $2,730
Program rates are subject to change and will be approved by the board of trustees. Discounts and scholarships are also available.
---
Program Information
Summer College – On Campus: Experience what college is really like: take a college-level course, live in a residence hall, have meals with friends in a dining hall, and participate in activities and events on campus.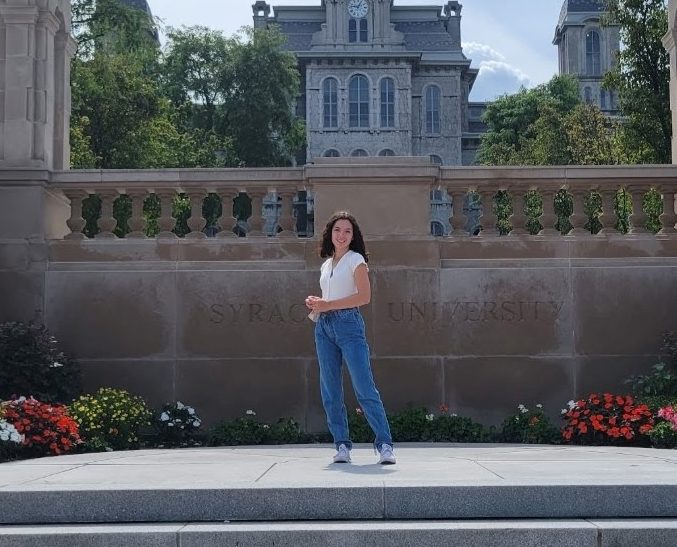 "Syracuse Summer College benefited my college journey and life in such a positive way that I now have a solid view of what I want my life to turn out to be."

-Isabella H., Summer College – Online Student, 2021
---
Course Dates and Details
Program
Course Dates
Class Time (Eastern Time)
Credit/Noncredit
Status
Summer College – On Campus
2-Week Session III: Sunday, July 30 – Friday, Aug. 12, 2022
MTWThF;
9 a.m.-4 p.m.
Noncredit
Closed
Students will break for roughly one hour for lunch. Class times subject to change.
Typical Day
Tentative Schedule
Students are required to attend class Monday – Friday from 9 a.m. – 4 p.m. with a break for lunch.
During the first week, students will learn and apply music production and recording related techniques and processes in the recording studio. Lecture periods will be followed by lab periods with practical application of processes. The second week will primarily be dedicated to instructor guided development of group projects, where students will conceive of and create recordings, applying techniques discussed earlier in the course, in the larger context of
producing a recording.
When class is over, and on weekends, students can look forward to various Summer College – On Campus activities to meet and connect with other students! Check out our On Campus Experience page for more information!
End Event
On the final day of class, there will be an end event ot present student recordings. This end event will be held during the last day of class. Parents and families are welcome to attend!
Faculty Bios
Jim Elenteny
Jim Elenteny is an assistant teaching professor of sound recording technology in the Setnor School of Music, where he teaches classes in sound recording and music industry. Prior to joining Syracuse University, Elenteny was the recording engineer at Western Carolina University (WCU) from 2018 -2021, serving as program director for commercial music and audio production from 2019 – 2021. In addition to his responsibilities as the recording engineer, serving the School of Fine and Performing Arts at WCU, he taught courses in audio fundamentals, recording techniques, advanced mixing, and audio post production for film and TV. Elenteny taught the Introduction to Audio, Multitrack Music Production and Digital Audio/Pro Tools sequence of courses, private guitar lessons, and directed the Guitar Ensemble at Shoreline Community College in Shoreline, Washington, from 2010-2018, where he served as the music technology department chairperson from 2016-2018 and was awarded tenure in He has also taught recording and music production courses at Living Arts College in Raleigh, North Carolina, CUNY Bronx Community College in the Bronx, New York, and Five Towns College in Dix Hills, New York. Elenteny's research focuses on all phases of music production, including composition, performance, recording, and production. As a composer and performer, he has produced music ranging from solo guitar to funk/fusion trio to Americana and rock. He has toured nationally, performing with the acoustic duo science! and funk/fusion trio The Insinuators. As a recording engineer, he has worked in many genres, ranging from solo and chamber classical music to jazz combo and big band, rock, hip hop, folk, metal, and more. He has also recorded and mixed sound for film, radio, and other media and worked as a live sound engineer.
---
Additional courses you might like…