Course Overview
The healthcare industry is one of the largest and fastest growing industries in the world. As technologies in the field advance, the number of new and exciting career opportunities continues to rise. With so many options, both existing and on the horizon, students interested in the medical and healthcare sector require exposure across the vast possibilities that will be available to them in the future.
High school students in the Summer College – Online Pre-Med and Healthcare Professions pre-college course will explore a broad spectrum of healthcare related fields; from obstetrics to gerontology, psychology to physical therapy, nutrition to neuroscience, the importance of research, and more. Gaining insights into these fields is important for high school students as the variety of healthcare jobs require different degrees, certificates, practicum hours, etc. This STEM course will help students as they consider what their journey will look like as they work towards becoming a healthcare professional.
There is no specific major, minor, area of research, or academic program that is required by professional schools. Undergraduate pre-health students must complete requisite courses (predominantly sciences), but they are strongly encouraged to select a major that reflects their personal and academic interests. Undergrads are encouraged to explore the many majors, minors and Integrated Learning Majors offered at Syracuse and pursue the academic plan that is right for them. Related majors and minors offered within Syracuse University's schools and colleges include:
Addiction Studies
Biochemistry
Biology
Biochemistry
Bioengineering
Biotechnology
Chemistry
Cognitive Science
Communication Science and Disorders
Exercise Science (Physical Therapy)
Forensic Science
Gerontology
Health and Exercise Science
Health and Wellness
Human Development and Family Science
Medical Anthropology
Mindfulness and Contemplative Studies
Neuroscience
Nutrition Science and Dietetics
Psychology
Public Health
Social Welfare
Social Work
All students who successfully complete the course will receive a Certificate of Completion and have the opportunity to request a Syracuse University noncredit transcript.
Course Objectives
Students will:
Gain a broad understanding of the healthcare industry
Engage with healthcare professionals
Take part in multiple virtual sessions with professional Syracuse University pre-med/pre-health advising staff and Honors advising staff
Become acquainted with a variety of potential college majors
Learn how to map out different college majors with potential career options
Course Information
Course Prefix and Number: SCN 057
Format: On Campus (at Syracuse University)
Eligibility: Students must be of rising high school sophomore, junior, or senior status – or a 2022 high school graduate.
Credit: Noncredit
Grading: Pass/Fail
Cost:
Residential: $3,585
Commuter: $2,730
Program rates are subject to change and will be approved by the board of trustees. Discounts and scholarships are also available.
---
Program Information
Summer College – On Campus: Experience what college is really like: take a college-level course, live in a residence hall, have meals with friends in a dining hall, and participate in activities and events on campus.
---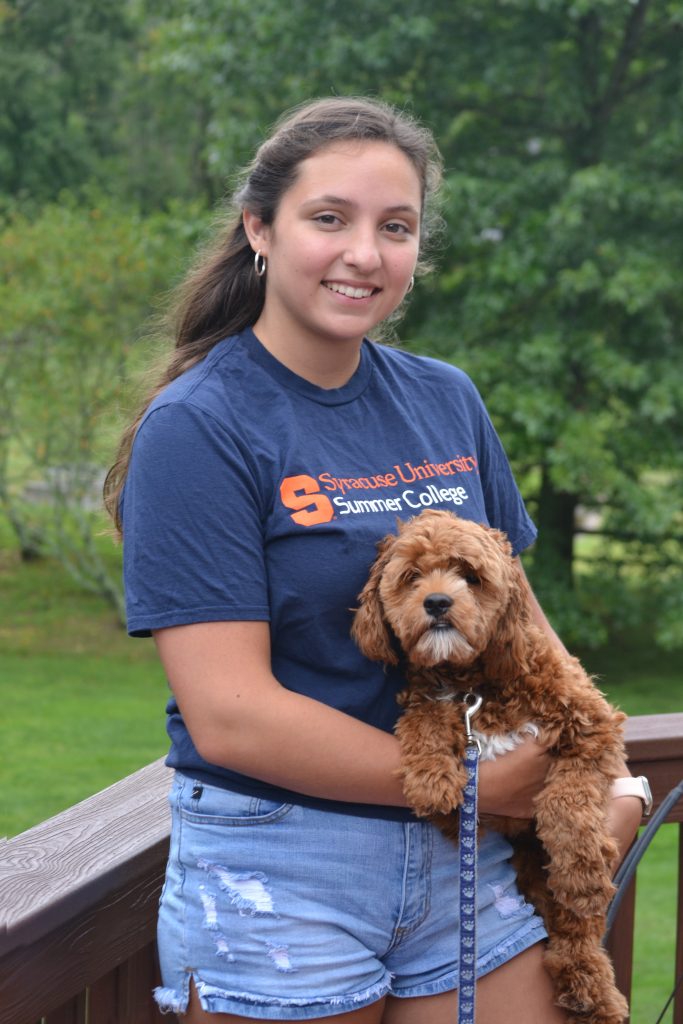 "I was lucky enough to attend the Pre-Med and Health Professions course at Syracuse University Summer College. It was extremely beneficial for me because it not only pertained to my interests but also encouraged me to really look more deeply into the field of medicine. I learned about biomedical engineering, pediatrics, nutrition, public health, and much much more, all at the hands of real doctors and professionals who offered advice and knowledge about their own practices. I had the chance to speak with physicians and learn about fields that I never considered, and I really feel that this course has affirmed my interest in medicine and helped me begin my journey to becoming a physician."

—Emilie S., Summer College – Online Pre-Med and Health Professions Student, 2020
---
Course Dates and Details
Program
Course Dates
Class Time (Eastern Time)
Credit/Noncredit
Status
Summer College – On Campus
2-Week Session I: Sunday, July 3 – Friday, July 15, 2022
MTWThF
9 a.m. – 4:30 p.m.
Noncredit
Closed
Summer College – On Campus
2-Week Session II: Sunday, July 17 – Friday, July 29, 2022
MTWThF
9 a.m. – 4:30 p.m.
Noncredit
Closed
Class times subject to change.
---
Course Requirements
Required Supplies
Students should budget for required textbooks and supplies.
Student Expectations
Students must:
Attend to all academic requirements
Be on time for all sessions
Be attentive and engaged
Respect rules and policies
Complete all academic requirements
Typical Day
Tentative Schedule
When class is over, and on weekends, students can look forward to various Summer College – On Campus activities to meet and connect with other students! Check out our On Campus Experience page for more information!
Faculty Bios
Brittany Kmush – Assistant Professor, Public Health, The David B. Falk College of Sport and Human Dynamics
Brittany Kmush is an Assistant Professor in the Department of Public Health, Food Studies, and Nutrition at Syracuse University. She received her PhD from Johns Hopkins Bloomberg School of Public Health (JHSPH). She earned a master of science in infectious disease epidemiology from JHSPH and holds a bachelor of science in biochemistry from the University of Rochester where she graduated cum laude. Her areas of specialization include epidemiology, global health, infectious diseases, vaccines, nutrition, immunology and environmental exposures particularly within the context of risks for infectious diseases, and Hepatitis E virus.
Check out her bio on the Falk College website.
Ruth Phillips – Associate Teaching Professor, Biology, College of Arts & Sciences
Education and Experience:
Visiting Assistant Professor of Biology, North Carolina Central University, Durham NC (2004-2017)
Postdoctoral Fellow, National Institute of Environmental Health Science, Research Triangle Park, NC (2003-2004)
Ph.D., Pharmacology and Cancer Biology, Duke University, Durham NC (2002)
B.S., Neuropsychology and Anthropological Zoology, University of Michigan, Ann Arbor, MI (1994)
Research and Teaching Interests:
Biotechnology, Cell Biology, Genetics and Cancer Biology –
Cancer treatments using signal transduction, cell cycle regulation.
Post-translational gene regulation via AU-rich elements.
Nucleocytoplasmic shuttling and regulation of RNA binding proteins.
Broadening participation of underrepresented and underserved populations in biology and biotechnology fields through –
Course-based research in the undergraduate biology curriculum.
Implementing service-learning based science outreach programs in the community.
Developing strategies and techniques that build resiliency for students.
Rachel Razza – Associate Professor and Graduate Director, the Department of Human Development and Family Science in Falk College
Razza graduated from SUNY Geneseo with a B.A. in psychology and completed both her M.S. and Ph.D. in human development and family studies at the Pennsylvania State University. Razza continued her studies as a post-doctoral researcher at Teachers College, Columbia University before joining the Syracuse University faculty in 2007. Dr. Razza specializes in social and cognitive development in at-risk children and youth, the different facets of self-regulation, and mindfulness-based practices as an intervention strategy for fostering resilience and promoting wellbeing. Dr. Razza also coordinates the Mindfulness and Contemplative Studies minor and is associate director of the Contemplative Collaborative, a campus wide working group of faculty, staff and students who envision practices, strategies and scholarly research that foster interest in and understanding of complex issues.
Margaret Voss – Associate Professor, Nutrition Science & Dietetics, The David B. Falk College of Sport and Human Dynamics
Margaret Voss is an Associate Professor in the Department of Public Health, Food Studies, and Nutrition at Syracuse University and a faculty affiliate in the University's interdisciplinary program in neuroscience. She received her PhD in biology from Syracuse University (comparative physiology and behavior) and completed her MS (physiological ecology) and BS (biology, summa cum laude) from SUNY College of Environmental Science and Forestry (ESF). Prior to returning to Syracuse in 2013, she held faculty appointments in biology and served on health professions advising committees at SUNY Potsdam and Penn State Erie, Behrend College. She currently teaches courses in nutritional biochemistry, nutritional genomics, and human metabolism. She has received teaching awards from Syracuse University, Penn State, and ESF. Her areas of expertise include vertebrate metabolism, energetics, reproductive physiology, and embryonic development. Dr. Voss belongs to the One Health Initiative, a worldwide strategy for expanding interdisciplinary collaborations and communications in all aspects of health care for humans, animals and the environment. She interested in the ways in which humans alter their environment and the subsequent repercussions for both human and non-human vertebrate health. Her research focuses on the link between environmental influences (e.g., photoperiod, food availability, dietary components and substrate availability) and genotype and phenotype (e.g. changes in metabolism, reproductive physiology, and the timing of embryonic development).
Check out her bio on the Falk College website.
Doug Yung – Assistant Teaching Professor, Bioengineering, College of Engineering & Computer Science
Douglas Yung is an Assistant Teaching Professor in the Department of Biomedical and Chemical Engineering at Syracuse University and the Director for the Bioengineering undergraduate program. He earned his B.Sc. in Electrical Engineering and Mathematics from UCLA in 2003 and a Ph.D. in Bioengineering from Caltech in 2008. He worked as a NASA Postdoctoral Fellow at the Jet Propulsion Laboratory in California on sensor development, microfluidics, and bacterial spore viability. He joined the Department of Electronic Engineering at the Chinese University of Hong Kong as an assistant professor in 2009. Douglas has long been intrigued by the interfacing of microbes with engineering tools on a micro- and nano-scale. He is unraveling methods to rapidly assess the viability of superbugs and harness energy from extremophiles using a combination of electrochemical, optical techniques and MEMS devices. He is an advocate of a hybrid teaching and learning environment replete with project-based hands-on work, experiential activities and peer collaboration, a style departing from traditional top-down expository pedagogies.
Check out his bio on the Engineering and Computer Science website.
Joseph T. Pellegrino, AuD, CCC-A
Dr. Pellegrino has been with Syracuse University for 21 years and currently holds the titles of Teaching Professor and Director of the Gebbie Hearing Clinic. He has a master's degree in Audiology from Northeastern University and a clinical doctorate (AuD) from the University of Florida. His clinical interests focus on adult audiologic diagnostics and hearing aid technologies. Dr. Pellegrino teaches undergraduate and graduate classes in the department of Communication Sciences and Disorders (CSD). His courses include Introduction to CSD, Medical Audiology, Professional Issues in Audiology, Counseling for Speech Pathology and Audiology, and Basic Clinical Audiology. He currently sits on the New York State licensure board for Audiology and Speech Pathology. On a personal note, Dr. Pellegrino enjoys golfing, skiing, and hiking.
---
Additional courses you might like…