Course Overview
This creative summer program was created for talented students who have been inspired by the energy and sophistication of theater and musical theater. The program develops the abilities of experienced performers who are serious about the field and eager to work hard. Our goal is to help you grow creatively through full-time, college-level theater training under the direction of acclaimed professional performers and teachers.
The program develops your performance skills and provides a behind-the-scenes view of theater that combines music, drama, and dance. Students complete the program with improved audition skills and with experience in college level work in the field.
Classes aim to improve command of your body, mind, and voice, so that combined they become the expressive instrument of an actor. Students take a trip to see at least one professional production with program faculty.
All students who successfully complete the course will receive a Certificate of Completion and have the opportunity to request a Syracuse University noncredit transcript.
Course Topics
Students in the Musical Theater at Syracuse program will:
Acquire new techniques in the areas of acting, singing, and dance
Apply technique effectively and efficiently to learning monologues, songs, scenes, and dance.
Identify personal physical and aesthetic challenges, habits, tendencies
Demonstrate professionalism in attitude and behavior
Understand the rigors and demands of the Syracuse University BFA in Musical Theater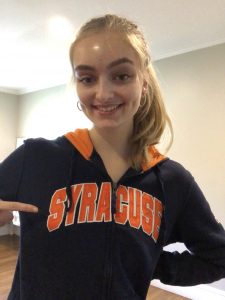 " The faculty's balancing of their impressive skill set with genuine enthusiasm and determination to help students improve made the program so rewarding. The professors were understanding and encouraging, creating a safe and fun environment where each student learned how to be the best performer (and person) possible. The faculty meticulously dove into our artistic material with specific analysis and helpful one-on-one feedback. In short, I fell in love with Syracuse and everything it stands for, especially individuality, commitment, community, and school pride. Through the program, I gained confidence in my craft. I am very proud to have been a part of such a challenging, balanced, friendly, and meaningful program, which fit perfectly into the University that shared the same values."

— Margo S., Summer College Musical Theater student, 2020.
Course Information
Course Prefix and Number: SCN 035
Format: On Campus
Eligibility: Students must be of rising high school junior, or senior status – or a 2022 high school graduate.
Audition Requirement: Students are required to submit audition pieces with their Slideroom Application. Auditions should include the following video submissions:
Two contrasting songs (each approximately one-minute in length)
One age-appropriate monologue
One short dance segment
You should be the only person seen on the video. Submission of high school or other group productions is not admissible. The audition is submitted online with your application via SlideRoom. Instructions are provided in the application. Each component of the audition should be approximately one minute in length.
Credit: Noncredit
Grading: Pass/Fail
Cost:
Residential: $3,585
Commuter: $2,730
Program rates are subject to change and will be approved by the board of trustees. Discounts and scholarships are also available.
---
Program Information
Summer College – On Campus: Experience what college is really like: take a college-level course, live in a residence hall, have meals with friends in a dining hall, and participate in activities and events on campus.
---
Course Dates and Details
Program
Course Dates
Class Time (Eastern Time)
Credit/Noncredit
Status
Summer College – On Campus
2-Week Session II: Sunday, July 17 – Friday, July 29, 2022
MTWThF
9 a.m. – 4 p.m.
Noncredit

Open
An hour break for lunch is included. Course times subject to change.
---
Course Requirements
What to Pack & Prepare
Dance clothes for jazz class
Jazz shoes (with or without heel)
A recording device for voice and musical theatre ensemble classes.
Notebook
Lock to use on a locker
Loose fitting clothing (i.e. warm-ups, tights, leotards, stretch pants) Jeans are not permitted in class
Two musical theatre songs that you have memorized, ready to perform
Two contrasting monologues (age appropriate) that you have memorized, ready to perform
All music must be in a three-ring binder
Student Expectations
Students in the Musical Theater program are expected to:
Demonstrate command and application of appropriate technical skill and stylistic elements
Display a commitment t the ongoing development of the physical instrument , technique, style, strength , stamina, precision, range, expressiveness, sensitivity
Apply technique effectively and efficiently to learning monologues, scenes, dances, stage combat (including class and stage work)
Possess the ability to communicate effectively and clearly with teachers, and fellow students in the classroom.
Display imagination and creativity
Identify personal physical and aesthetic challenges, habits, tendencies
Demonstrate professionalism in attitude and behavior
This is an academically rigorous, college-level program. Students are expected to complete nightly homework assignments and actively participate in group projects. Students are expected to attend all classes every day, arrive on time, and meet all academic obligations. Free time will vary as each program is unique, as is the subsequent workload. Free time is very limited in some programs.
Typical Day
Tentative Schedule
9 a.m. to Noon: Classes focus on musical theater, including acting, voice, improvisation, movement, dance, and scene study
1 to 4 p.m.: Classes involve additional work in acting, movement, and voice, along with rehearsals for public performances
When class is over, and on weekends, students can look forward to various Summer College – On Campus activities to meet and connect with other students! Check out our On Campus Experience page for more information!
Field Trips
A field trip will be scheduled and announced as soon as possible. Students typically attend a Summer Theatre performance in the area. In previous years, these have included one of the following: The Hanger Theatre in Ithaca, The REV Theatre Company in Auburn, or The Glimmerglass Festival in Cooperstown, NY.
End Event
As this is a college-level immersion experience, there will not be a final "performance." The last day of classes will be open to parents/visitors if they would like to sit in and see the work.
Faculty Bios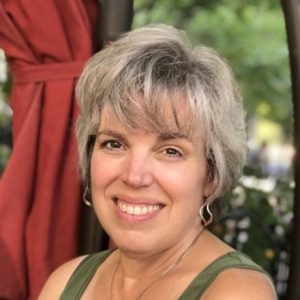 Rebecca Karpoff, director
Department of Drama
Associate Chair for Academic Administration
Associate Teaching Professor, Musical Theater
Coordinator of Vocal Instruction
rjkarpof@syr.edu Rebecca Karpoff teaches Musical Theater Voice and serves as the Associate Chair for the Department of Drama at Syracuse University. A soprano with a DMA from the Eastman School of Music, she has sung in opera, symphonic concerts, chamber music, recitals, and cabaret around the world. For the past 15 years, she has specialized in Musical Theater vocal technique as coordinator of Vocal Instruction in the Department of Drama, where she has taught courses on vocal physiology and health, musicianship skills, private voice lessons, and Advanced Musical Theater Repertoire. She has also directed and/or music directed numerous Department projects, from established full-length musicals to new works, devised works, and student cabarets.
---
Additional courses you might like…