Course Overview
If you enjoyed watching "Mr. Robot" or" CSI: Cyber" or you are intrigued by cybersecurity in current events, you're the ideal high school student for this summer STEM course. It is clear that cybersecurity is now at the forefront of our daily lives and the need to secure our computers and systems is increasing exponentially.
As the old saying goes, you must "know thy enemy." In order to secure computer systems, you need to learn how hackers think and operate. In the Cybersecurity program, students are put through a series of activities to learn how easy (or difficult) it is to hack a computer system. These skills will allow them to join the growing community of ethical hackers whose mission is to secure computer and information systems. The core of the learning is via group-based activities, labs and challenges. Students posses a broad spectrum of skills, and they are encouraged to share and spread their knowledge. Students can also pursue greater individual goals by taking advantage of the provided resources.
Still undecided about taking this program? Rumor has it that there are currently as many as 200,000 cybersecurity jobs left vacant because there are not enough skilled workers to fill them, which is making cybersecurity one of the hottest career paths in the world.
All students who successfully complete the course will receive a Certificate of Completion and have the opportunity to request a Syracuse University noncredit transcript.
Course Topics
Security CIA and Encryption Technologies
Internet and Network Security
Network-based Attacks and Social Engineering
Web and Database Attacks and Mobile Application Security
Malware and Scanning for Vulnerabilities
Ethical Hacking Reporting and Communication
Course Objectives
Gain an overall knowledge of cybersecurity
Understand What Ethical Hackers Do
Learn to Work In Teams
Participate in a Hackathon and apply the skills they have learned
Course Information
Course Prefix and Number: SCN 043
Format: On Campus (at Syracuse University)
Eligibility: Students must be of rising high school sophomore, junior, or senior status – or a 2022 high school graduate.
Credit: NC
Grading: Pass/Fail
Residential: $3,585
Commuter: $2,730
Program rates are subject to change and will be approved by the board of trustees. Discounts and scholarships are also available.
---
Program Information
Summer College – On Campus: Experience what college is really like: take a college-level course, live in a residence hall, have meals with friends in a dining hall, and participate in activities and events on campus.
---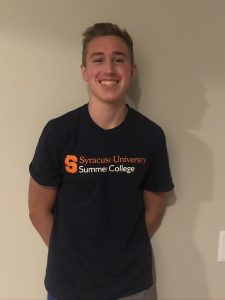 "I loved the Cybersecurity: Hackathon Experience because it was a great introduction to what I plan on studying later on in life. This course taught me a lot of the basics that go into cybersecurity. The professor encouraged mistakes and let us know that it is all part of the process. I feel as though after taking this course, I have a head start on everybody that will be taking an undergrad cybersecurity course with me in the future."

— Will T., Summer College – Online Cybersecurity Student, 2020
---
Course Dates and Details
Program
Course Dates
Class Time (Eastern Time)
Credit/Noncredit
Status
Summer College – On Campus
2-Week Session II: Sunday, July 17 – Friday, July 29, 2022
MTWThF
9 a.m.-4 p.m.
Noncredit
Closed
Class will break for lunch daily for approximately one hour. Class times subject to change.
---
Course Requirements
Required Supplies
All students are required to have their own laptop computers which they need to complete their assignments.
The minimum configuration for the students PCs/Macs is 8 gig of RAM and 100 gig of free disk space which anything newer than a couple of years would easily match. All the software that we use are either open source (free) or free trials and we will install them in class so no need for students to have anything prepared ahead of time. However, it would be helpful to have MS Office apps like Word, Excel and PowerPoint.
Student Expectations
Students are expected to complete all their daily tasks and to be resourceful when experiencing difficulties. In case they run into any problems they should seek a quick resolution by reaching out to teaching assistants, the professor, or other students.
Typical Day
Tentative Schedule
Each day highlights a specific topic in cybersecurity. Students work in small groups to perform exercises that reinforce their understanding of the topic. They will then test their understanding via a series of challenges.
When class is over, and on weekends, students can look forward to various Summer College – On Campus activities to meet and connect with other students! Check out our On Campus Experience page for more information!
Field Trips
Partnering with Syracuse University's Outdoor Education Center, students can look forward to participating in its Challenge Course and Zip Line activity to promote trust, camaraderie and long term relationships.
End Event
The class concludes with its hackathon which is held on the last day of the two week session. The hackathon organizes students into teams (blue teams) who will be defending their systems from attacks by hackers (red team). Each team receives a score by maintaining their systems uptime while fending off the red teams hacking attempts. While it is very competitive, it is also super fun.
Faculty Bios
Bahram Attaie – Assistant Professor, Syracuse University School of Information Studies
Bahram Attaie is an assistant professor of practice at Syracuse University's School of Information Studies (iSchool) and has been teaching Information Technology at Syracuse University since 1995. More recently he has been specializing in cybersecurity, and in 2015 he was the director of the Northeast Collegiate Cybersecurity Defense Competition (NECCDC) hosted by the iSchool. He was also coach of the Syracuse University team that won the 2018 National Cyber Anyalyst Challenge. Although he retired from full time teaching in December of 2017, he remains very active in cybersecurity and continues to teach part time as an adjunct professor.
---
Additional courses you might like…