Course Overview
The Civil and Environmental Engineering course examines the properties and strength of materials and includes basic fundamentals of structural engineering. Stress and strain and the behavior of materials under varying conditions will be examined. The course will focus on Studies of the man-made-world, both ancient and modern, and their integration to the earth, include roads, runways, buildings, tunnels and bridges. The geology, tectonics and slope stability are included in these studies.
Lab work will include evaluating materials and design, building and testing a truss bridge. The strength of structures. Properties of materials. Stress & Strain. Engineering underground and in deep water. Stress and temperature at depth in the earth. History of an urban watershed and human influence on hydrologic systems. Study the Onondaga lake water shed.
Potential field trips include visiting the Center of Excellence (COE) to learn about smart buildings and construction sites to learn about new innovative engineering solutions. Additional field trips are the Tully mud boils, and Bare Mt Slide.
The Summer College Engineering program is one of Syracuse University's premier summer programs for high school students. It combines a college-level introduction to engineering with study in related subjects. Explore the roles of creativity and problem-solving in the profession and learn a variety of tools used in engineering.
All students who successfully complete the course will receive a Certificate of Completion and have the opportunity to request a Syracuse University noncredit transcript.
Course Topics
Common lectures include:
Fundamental Units of Engineering
Intellectual Property
Engineering Ethics
Common course components:
Selected Readings and presentations by student pairs
Teamwork practice
Course Information
Course Prefix and Number: SCN 082
Format: On Campus (at Syracuse University)
Eligibility: Students must be of rising high school sophomore, junior, or senior status – or a 2022 high school graduate.
Credit: Noncredit
Grading: Pass/Fail
Residential: $3,585
Commuter: $2,730
Program rates are subject to change and will be approved by the board of trustees. Discounts and scholarships are also available.
---
Program Information
Summer College – On Campus: Experience what college is really like: take a college-level course, live in a residence hall, have meals with friends in a dining hall, and participate in activities and events on campus.
---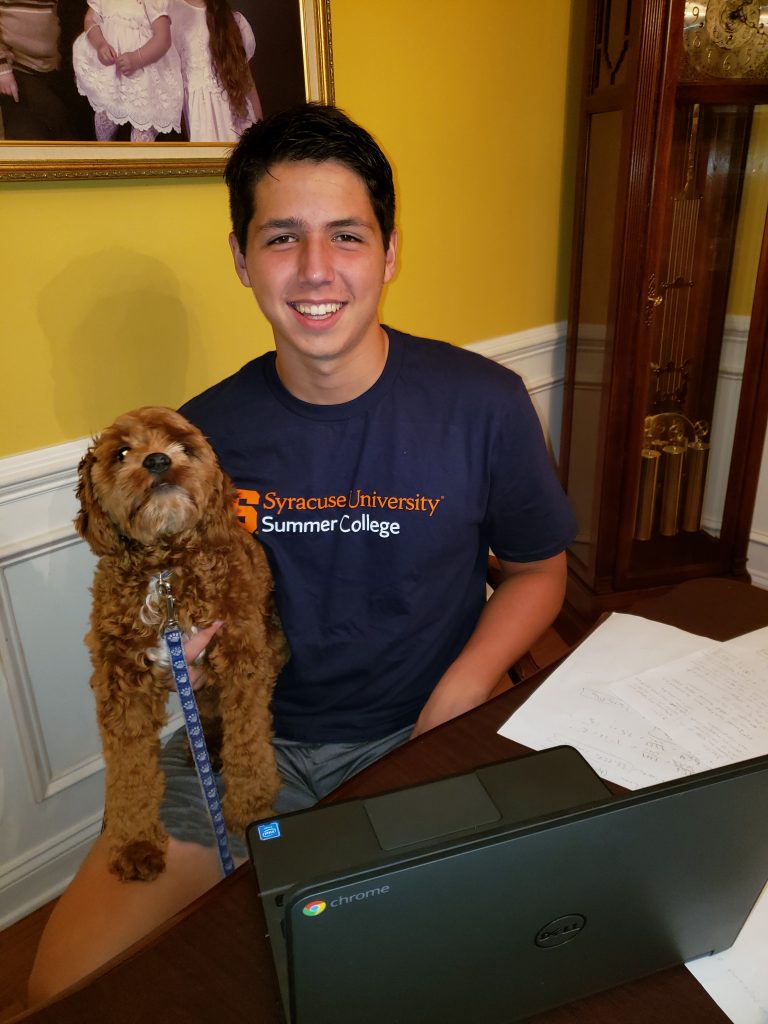 "Professor Plumley was very interactive with us and gave us multiple group projects in which I was able to work on with my classmates. I was able to learn more about different areas of engineering that I am interested in, which will help me as I start planning for college."

— Christopher S., Summer College – Online Civil, Environmental, Renewable and Alternative Energy Engineering Student, 2020
---
Course Dates and Details
Program
Course Dates
Class Time (Eastern Time)
Credit/Noncredit
Status
Summer College – On Campus
2-Week Session I: Sunday, July 3 – Friday, July 15, 2022
MTWThF;
9 a.m.-4 p.m.
Noncredit
Closed
Students will have a break for approximately one hour each day for lunch. Course times subject to change.
---
Course Requirements
Required Textbooks & Supplies
Students will be required to bring their laptop to class daily
Microsoft Office Suite (Microsoft Office download provided to enrolled students)
Students should budget for the cost of required textbooks and supplies (can be purchased at the Syracuse University Campus store)
Typical Day
Tentative Schedule
When not on field trips, the typical day involves lectures, demos and team building in the morning session and hands-on work in the lab or field in the afternoon. Students will be problem solving in groups, designing and building structures, and working with SU/ESF undergraduate/graduate students in various College of Engineering labs. When not in class, students will have homework, conduct additional assigned research/reading, and be expected to continue work on group projects. as well as industry professionals.
When class is over, and on weekends, students can look forward to various Summer College – On Campus activities to meet and connect with other students! Check out our On Campus Experience page for more information!
Field Trips
Potential field trips include: the Museum of Science and Technology (MOST), Center of Excellence (COE), Tully Mud Boils, and Bear Mountain Slide.
End Event
On the final day, we visit the Water Environmental Protection Jefferson St facility, downtown Syracuse, and have lunch at the MOST. Students watch a film in the new Giant Screen Omnitheater that relates to the health of the planet in the afternoon. Parents and family members are welcome to attend with paid admission.
Instructor Bio
Dr. Peter Plumley – Research Associate Professor, Civil and Environmental Engineering
Dr. Peter Plumley is a Research Associate Professor in the Civil and Environmental Engineering department at Syracuse University. He is an Earth Scientist with an extensive background in computers and technology. Dr. Plumley's research has been in the areas of plate tectonics and application of paleomagnetic techniques to regional tectonics. His most recent and active research is focused on educational issues of secondary students related to motivation and the Science of Learning. Dr. Plumley was responsible for development and implementation of K-12 outreach for the College of Engineering and Computer Science. Students impacted by his outreach programs number approximately 2,000 students from middle schools (4th – 8th grade) per year and 2,100 high school students (9th – 12th grade) per year. Dr. Plumley was honored with "2003 College Educator of the Year," by the Technology Alliance of Central New York and the 2011 Post-Standard Achievement Award for years of working to excite young people in Central New York about learning science and engineering. Dr. Plumley has designed and built two payloads carried to space on NASA Sounding rockets. He is the SU coordinator for Space & Satellite Professionals International (SSPI) for education and research.
---
Additional courses you might like…