Course Overview
New for 2022! Each of the six modules will focus on a key personal finance concept, with a practical framework provided for how to think about each topic. Students will experience content through reading, video, and the occasional podcast. Once a week they will engage in a synchronous live lecture with the instructor to dive deeper into the topic of the week. The course will end with a cumulative final exam.
Modules include: Financial Game Planning; Reducing Taxable Income; Choosing the Right Bank, Accounts, and Financial Products; Using Credit and Debt Responsibly; Investing Essentials; and Covering Risk with Insurance.
All students who successfully complete the course will receive a Certificate of Completion and have the opportunity to request a Syracuse University noncredit transcript.
Course Topics
Throughout the course, students will:
Set financial goals for one week, one month, & one year;
Analyze the impact of compound interest in the Time Value of Money formula and apply to financial goal;
Optimize each paycheck and create a system to make financial choices;
Determine net income and quantify federal, state, and local tax liabilities;
Choose bank accounts that align with needs and be able to evaluate different offerings;
Practice responsible credit card use and identify a strategy to avoid negative impacts;
Understand the basic principles of investing for retirement and the benefits of Index Funds and Exchange Traded Funds;
Evaluate insurance needs and attain appropriate coverages;
Become aware of cyber-threats and apply defense techniques.
Course Information
Course Prefix and Number: TBD
Format: Online
Eligibility: Students must be of rising high school sophomore, junior, or senior status – or a 2022 high school graduate.
Credit: Noncredit
Grading: Pass/Fail
Cost: $2,500
Program rates are subject to change and will be approved by the board of trustees. Discounts and scholarships are also available.
---
Program Information
Summer College – Online: Explore college life before stepping foot on campus! High school students can enroll in a college-level course, pursue their academic interests, and meet likeminded students in daily virtual events and activities.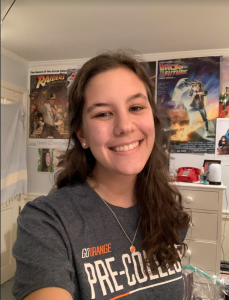 "The three weeks that I spent studying with Syracuse was, hands down, one of my favorite parts of my high school experience."

-Chloe F., Summer College – Online Student, 2021
---
Course Dates and Details
| Program | Course Dates | Synchronous Class Time (Eastern Time) | Credit/Noncredit | Status |
| --- | --- | --- | --- | --- |
| Summer College – Online | 6-Week Session: Tuesday, July 5 – Thursday, August 11, 2022 | Tuesdays at 8 p.m. | Noncredit | Closed |
Class times subject to change.
---
Course Requirements
Technology Requirements
Laptop or desktop computer with a webcam and mouse
Reliable internet access
A space conducive to taking an online class (without distractions)
Required Supplies
Students should budget for required textbooks and supplies. A supply and textbook listing will be sent to students before the start of the program.
Typical Day
Tentative Schedule
Students must attend live synchronous online sessions on Tuesdays at 8 p.m., EST. A typical week would include reading an excerpt from the text on the topic of the week, watching a video, and completing a content quiz, discussion post, or a guided one-page reflection paper on the topic as it applies to their current situation.
When class is over, and on weekends, students can look forward to various Summer College virtual activities to meet and connect with other students across the world. Check out our Virtual Campus Experience page for more information!
Faculty Bios
Derek Brainard
Derek Brainard, MBA, is an Accredited Financial Counselor® through the AFCPE®, and a Chartered Retirement Planning Counselor™ through the College for Financial Planning. Derek has worked in both the private financial services sector as a licensed financial advisor, and in higher education as financial literacy coordinator at Syracuse University. His financial writing and commentary have been featured via The Wall Street Journal, U.S. News and World Report, MSN Money, Fox News, and USA Today.
Connect with Derek on LinkedIn.
---
Additional courses you might like…