Course Overview
In this summer course, high school students will cover the introductory concepts of human nutrition including nutrients, how the body utilizes them, how they are obtained through food and supplements. recommendations for intake to promote optimal growth, and health and prevention of disease throughout the lifespan. Students will explore your own eating habits and learn to evaluate their own dietary intake.
During Zoom class meetings, we will discuss important topics such as weight control, sports nutrition, dietary supplements, food safety and sustainability. Readings, homework, discussion boards, guided activities and chapter quizzes will be done outside the class meeting times. In addition, students will take excursions into their community and on campus to learn more about our food environment, including going to grocery stores, local farmer's markets, dining halls other campus venues.
By taking this course students will develop critical thinking skills to help them determine if nutrition information is based on evidence and how to use that information to make informed decisions about food and eating behaviors.
This course meets the requirements for a natural science in the liberal arts core for non-science majors at Syracuse University.
This course is open to Syracuse University undergraduates.
All students who successfully complete the course will receive a Certificate of Completion and have the opportunity to request a Syracuse University credit transcript.
Course Objectives
After taking this course, students will be able to:
Describe the functions and processes of nutrients in food and in the body.
Obtain, analyze, and interpret dietary assessment data.
Identify specific nutrient needs or concerns throughout the lifespan.
Describe current nutrition recommendations related to enhanced health and prevention of disease.
Navigate the food environment on campus and in the community to find a balance and varied diet
Course Information
Course Prefix and Number: NSD 225
Format: Online
Eligibility: Students must be of rising high school junior, or senior status – or a 2022 high school graduate – and have completed high school biology and chemistry.
Credit: 3 credits
Grading: A-F
Cost: $2,985
Program rates are subject to change and will be approved by the board of trustees. Discounts and scholarships are also available.
---
Program Information
Summer College – Online: Explore college life before stepping foot on campus! High school students can enroll in a college-level course, pursue their academic interests, and meet likeminded students in daily virtual events and activities.
---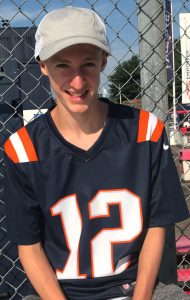 "For me, Syracuse Summer College – Online provided me an unforgettable opportunity to grow as a student and as a person while following my passion. In all, I could not have imagined such a memorable and special experience"

—Ben K., Summer College – Online Student, 2020
---
Course Dates and Details
Program
Course Dates
Synchronous Class Time (Eastern Time)
Credit/Noncredit
Status
Summer College -Online
3-Week Session I: Tuesday, July 5 – Thursday, July 21, 2022
MTWTh*
4:30 – 6 p.m.
3 credits
Closed
Summer College -Online
3-Week Session II: Tuesday, July 25 – Thursday, Aug. 11, 2022
MTWTh
6 – 7:30 p.m.
3 credits
Closed
*July 4 is an observed holiday and Session 1 students will have class on Friday, July 8 and then all subsequent synchronous class will run according to the schedule above. Class times subject to change. Each session is the same course, only the dates are different.
---
Course Requirements
Technology Requirements
Laptop or desktop computer with a webcam and mouse
Reliable internet access
A space conducive to taking an online class (without distractions)
Required Supplies
Students should budget for the cost of supplies and textbooks. A supply and textbook list will be sent to students before the start of the program.
Student Expectations
Students must be active learners who are willing to participate in online synchronous and asynchronous discussions and activities. Attendance is required and requires that cameras are on during synchronous class meetings.
Typical Day
Tentative Schedule
Students must attend live synchronous online sessions Monday – Thursday. Typical schedule is outline below:
Synchronous Meeting – 90-minute class

15-minute check-in and questions from the assigned reading

30-minute small group activity or problem-based learning activity

30-minute review/discussion of activity and how it relates to assigned readings

15-minute wrap and explanation of asynchronous work

Asynchronous content – 45 minutes per day

15-minute recorded lecture

30 minutes – 3 discussion board posts on content from the recording

60-90 minutes per week on a guided activity such as a community excursion such as trip to Farmer's market to learn about a local food or cooking activity

Homework

30-minute automated homework assignment

90 – 120 minutes on a larger assignment related to the asynchronous guided activity.
When class is over, and on weekends, students can look forward to various Summer College virtual activities to meet and connect with other students across the world. Check out our Virtual Campus Experience page for more information!
Faculty Bios
Jane Burrell
Jane Burrell has been an Instructor/Associate Teaching Professor at Syracuse University since 2010 and teaches hundreds of college students each year. She is a registered dietitian/nutritionist (RDN) who focuses on medical nutrition therapy, which is the use of nutrition as a complementary treatment to conventional medical care of health conditions and disease. Burrell began her career working in hospitals across the country and started teaching at California State University Los Angeles before returning to her hometown in Central New York. Professor Burrell also specializes in lifecycle nutrition. Her teaching philosophy includes providing students with the skills and critical thinking to apply nutrition recommendations in problem-based learning activities that can be translated into real-life skills outside of the classroom.
---
Additional courses you might like…