Course Overview
Cinematography will be an intensive three-week course for high school students to learn how to prepare a 3-5 minute short film. The program will move the focus from hands-on production to digital preparatory and online demonstration. We will be focusing on:
Pre-production (script analysis, understanding the script, and pre-visualizing the script)
Production
Post-production
All students who successfully complete the course will receive a Certificate of Completion and have the opportunity to request a Syracuse University noncredit transcript.
Course Objectives
By the end of this course students will be able to:
Plan a film production
Understand the fundamentals of cameras, lenses, and lights for film productions
Demonstrate an understanding of the basics of visual concepts and how to approach visual strategy
Execute post-production successfully (editing and color correction)
Course Information
Course Prefix and Number: SCN 064
Format: Online
Eligibility: Students must be of rising high school sophomore, junior, or senior status – or a 2023 high school graduate.
Credit: Noncredit
Grading: Pass/Fail
Cost: $1,985
Program rates are subject to change and will be approved by the board of trustees. Discounts and scholarships are also available.
---
Program Information
Summer College – Online: Explore college life before stepping foot on campus! High school students can enroll in a college-level course, pursue their academic interests, and meet likeminded students in daily virtual events and activities.
---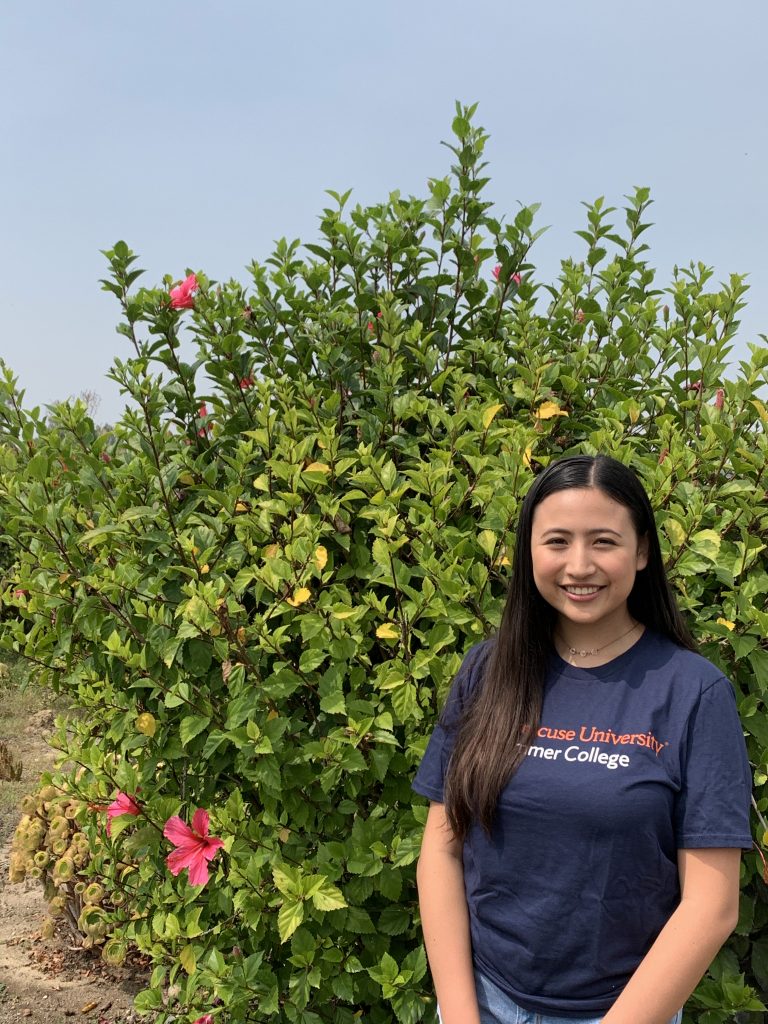 "Having just spent three weeks at Summer College – Online in the Cinematography course, it helped me realize what I wanted to do with my life. Syracuse was able to guide me into the film industry as I dove deep into learning everything about film such as the filmmaking workflow, specific camera shots when filming, and the frame composition for each shot. I truly loved every minute of my Summer College – Online experience from making new friends across the country, participating in fun events, and learning more about what I am truly passionate about."

— Ana L., Summer College – Online Cinematography Student, 2020
---
Course Dates and Details
Program
Course Dates
Synchronous Class Time (Eastern Time)
Credit/Noncredit
Status
Summer College -Online
3-Week Session I: Monday, July 3 – Thursday, July 20, 2023
MTWTh*;
5:30-7 p.m.
Noncredit
Closed
*July 4 is an observed holiday and students will have class on Friday, July 7 and then all subsequent synchronous class will run according to the schedule above.
---
Course Requirements
Technology Requirements
Laptop or desktop computer with a webcam and mouse
Reliable internet access
A space conducive to taking an online class (without distractions)
External Hard Drive
Video/Photo Camera or a phone/tablet device with video recording capability
Required Supplies
Students should budget for required textbooks and supplies. A supply and textbook listing will be sent to students before the start of the program.
Student Expectations
Students are expected to punctually attend all the synchronous sessions and review all the material posted online, relative to the class. Collaboration is key in filmmaking. Students are expected to share ideas and actively collaborate with their classmates during film pre-production and post-production sessions.
This is an academically rigorous, college-level course. Students are expected to complete nightly homework assignments and actively participate in group projects. The students will be daily online collaborative sessions guided by SU Senior students.
Typical Day
Tentative Schedule
Students will be required to attend a synchronous class session Monday – Thursday from 5:30-7pm.
When class is over, and on weekends, students can look forward to various Summer College virtual activities to meet and connect with other students across the world. Check out our Virtual Campus Experience page for more information!
Virtual End Event
At the end of the three weeks, an online event will be hosted. Students will have a chance to showcase on an online platform their progress/projects.
Faculty Bios
Donato Rossi
Donato Rossi is a southern Italian independent filmmaker, born and raised in Puglia. He spent 15 years in Tuscany (Sienna) working and studying Arts, Cinema and Theater at the University of Sienna. After several years working in broadcasting in Europe, he moved to the United States in 2014 to earn an MFA in film at the School of Visual and Performing Arts at Syracuse University. Rossi's projects have been screened in Milan, Bilbao, Florence, Siena, Reggio Emilia, Sicily, New York, and Michigan. He's had festival accreditation in collaborations as the cinematographer and colorist in several projects.
In 2016, Rossi began teaching film at Syracuse University. He has taught basic and advanced film production, cinematography, and screenwriting. He participated in Italian Film Studies and Filmmaking in Bologna and held many workshops and guest lecturers. In the summer of 2018, Rossi started working as the director and video producer at the Center for Online and Digital Learning at Syracuse University.
He is currently working on two new personal film projects.
Personal website: www.donatorossi.com
---