Course Overview
In this pre-college summer course, modeled after Syracuse University's COM 117: Multimedia Storytelling, high school students will learn to be a Multimedia Journalist (MMJ). They will shoot, edit, produce, write, and voice their own broadcast/online news stories. Synch classes will have an open environment that creates curiosity, an informative heart, and a (potentially) happy ending. Students will learn the difference between covering a story and storytelling – storytelling that connects the viewer to the subject. Stories that matter more to them because they are emotionally invested in the content, the characters, and how it affects their lives.
Students will also be doing the same for a public service announcement(s), where they will work with actors to make a 60-second "commercial" for the public good. These will help "sell" an idea for a charitable or social cause. Examples include: "Don't Text and Drive," "Vaping Kills, or "Be Kind to Each Other." The message will be truthful and compelling. Guest speakers will help with scriptwriting, voice, interviews, and more.
All students who successfully complete the course will receive a Certificate of Completion and have the opportunity to request a Syracuse University noncredit transcript.
Course Objectives
To turn students into storytellers of broadcast journalism.
Explore why journalism matters now more than ever.
Tell a story through writing, video, sound, and heart.
Learn Adobe Premiere and use smartphones to record news video and sound.
Learn techniques for a great interview, which makes for a great story.
Explore what constitutes a story: how to find it, how to produce it, and how to complete it.
Learn how to build emotional impact and "gold coin" rewards for the viewer along the way.
Most of all, students will learn the profound difference between covering a story and storytelling.
Course Information
Course Prefix and Number: SCN 073
Format: Online
Eligibility: Students must be of rising high school sophomore, junior, or senior status – or a 2022 high school graduate.
Credit: Noncredit
Grading: Pass/Fail
Cost: $2,500
Newhouse Scholarship:
A course-based scholarship opportunity is available to students who apply for pre-college courses out of the Newhouse School. Applicants who select a Newhouse course will automatically be considered for the Newhouse scholarship without the need for an additional essay.
Program rates are subject to change and will be approved by the board of trustees. Discounts and scholarships are also available.
---
Program Information
Summer College – Online: Explore college life before stepping foot on campus! High school students can enroll in a college-level course, pursue their academic interests, and meet likeminded students in daily virtual events and activities.
---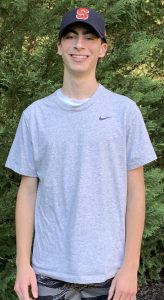 "In Broadcast & Digital Journalism, I developed a working knowledge in the editing of Adobe Premiere Pro, crucial interview styles, techniques, and approaches, as well as the importance of compelling storytelling and how these respective skills will enable me to achieve success both inside and outside of the classroom. Most importantly, I developed a relationship with many of my peers, which I found immensely comforting as I sometimes become anxious during remote instruction. I was surprised and comforted that I could easily establish and develop a relationship with my professor in a remote setting. I plan to use these skills and knowledge to pursue a degree in journalism."

— Tyler M., Summer College – Online Broadcast and Digital Journalism Student, 2020
---
Course Dates and Details
Program
Course Dates
Synchronous Class Time (Eastern Time)
Credit/Noncredit
Status
Summer College – Online
3-Week Session I: Tuesday, July 5, 2022 – Thursday, July 21, 2022
MTWTh*
6-8 p.m.
Noncredit
Closed
*July 4 is an observed holiday and students will have class on Friday, July 8 and then all subsequent synchronous class will run according to the schedule above.
Please note: Course time is subject to change.
---
Course Requirements
Technology Requirements
Laptop or desktop computer with a webcam and mouse
Reliable internet access
A space conducive to taking an online class (without distractions)
Required Supplies
Students should budget for required textbooks and supplies. A supply and textbook list will be sent to students before the start of the program.
Student Expectations
Journalism is a deadline centric profession. Even though this course will be held online, deadlines still matter. Students are expected to complete work on their own as well as attend live classes on time. If you arrive early, you are on time. If you arrive on time, you are late. I expect each student to work well and be courteous of other students and follow proper netiquette.
Within a three-week span, students will be learning not only skills for TV News, but ethics, time management, and how to find a story. Students will stay off their phones during class unless previously permitted. Students will work with their assigned Instructional Assistant with as much respect as their professors.
Typical Day
Tentative Schedule
More information coming soon.
Special Guests
End Event
During the end event, students will share their final projects as well as potential "Director's Cuts" that typically are longer in length than their original assignments. Blooper reels will also be shown in the same presentation.
Faculty Bios
Les Rose – Professor of Practice: Broadcast & Digital Journalism
Les Rose's 38-year career in broadcast journalism included 22 years with CBS National News Network as a photojournalist and field producer. He spent seven years working with CBS News correspondent Steve Hartman on the series 'Everybody Has a Story'. Rose has been honored with a national Edward R. Murrow Award and five Emmy Awards. He earned a bachelor's degree from the University of South Florida and a master's degree from the University of Nebraska-Lincoln.
Jason R. Kohlbrenner
Digital Support Specialist at SUNY College of Environmental Science and Forestry's Digital Storytelling Studio and Adjunct Professor in the Newhouse School's Television, Radio & Film program, Jason is an experienced media trainer and video post production specialist with over fifteen years of experience working in the higher education industry. He is actively engaged in the education and film and video industries.
---
Additional courses you might like…