Course Overview
The Summer College Architecture course offers a unique experience that is based upon a fundamental, conceptual introduction to architecture. High school students in this summer STEM course are taught spatial definition, form, and spatial relationships, leading up to a final project that asks students to design a small pavilion in downtown Syracuse. To support these endeavors, Architecture faculty will teach physical model making, mechanical drafting, digital modeling in Rhino, digital visualization in V-Ray, digital illustration in Adobe Illustrator, and digital image editing in Adobe Photoshop.
This is one of Syracuse University's most popular pre-college courses. High school students gain an understanding of the culture and practice of architecture through drawing and modeling exercises, design projects, lectures, virtual tours, and discussions on a variety of contemporary and historical topics. This program can help students decide whether to pursue a degree in architecture or a related field. If a student discovers that architecture is for them, they will have a head start!
The Summer College Architecture Program is taught by Syracuse University School of Architecture faculty and is structured to give students an opportunity to complete projects that can be included in an architecture program application portfolio.
Read about the Summer College Online 2020 Architecture course here.
All students who successfully complete the course will receive a Certificate of Completion and have the opportunity to request a Syracuse University credit transcript.
Course Objectives
Develop fundamental skill sets of architectural design
Learn a variety of drawing and physical modeling techniques
Be introduced to practicing architects
Explore digital design and representation software
Develop projects for display in a portfolio
Experience a rigorous college architecture course
Course Information
Course Prefix and Number: ARC 100
Format: Online
Eligibility: Students must be of rising junior or senior status or a 2022 high school graduate.
Credit: 3 credits
Grading: A-F
Cost: $2,985
Program rates are subject to change and will be approved by the board of trustees. Discounts and scholarships are also available.
---
Program Information
Summer College – Online: Explore college life before stepping foot on campus! High school students can enroll in a college-level course, pursue their academic interests, and meet likeminded students in daily virtual events and activities.
---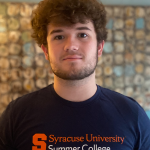 "It allowed me to experience and take a deep dive into architecture in ways I did not know existed. It was exhilarating to discover the fundamentals of all architecture and how structures are broken down."

— Henry F., Summer College – Online Architecture Student, 2020
---
Course Dates and Details
Program
Course Dates
Synchronous Class Time
(Eastern Time)
Credit/Noncredit
Status
Summer College – Online
3-Week Session I: Tuesday, July 5 – Thursday, July 21, 2022
MTWTh*;
11 a.m. – 1:30 p.m.,
4:30 – 6 p.m.
3 credits
Closed
Summer College – Online
3-Week Session II: Monday, July 25 – Thursday, Aug. 11, 2022
MTWTh;
11 a.m. – 1:30 p.m.,
4:30 – 6 p.m.
3 credits
Closed
Each session is the same course, only the dates are different. Class times subject to change.
*July 4 is an observed holiday and students will have class on Friday, July 8 and then all subsequent synchronous class will run according to the schedule above.
Course Requirements
Technology Requirements
Laptop or desktop computer with a webcam and mouse
Reliable internet access
A space conducive to taking an online class (without distractions)
A list of trial and free full versions of applicable software, including Rhino, V-Ray, Adobe Illustrator, and Adobe Photoshop will be shared and able to be downloaded prior to or at the beginning of the program.
If you have any questions about technology requirements, please email the Office of Pre-College Programs.
Required Supplies
Students will purchase their Architecture supplies through the Syracuse University Campus Store, which will be shipped to their home. The estimated cost of the kit is $175. You can purchase the Architecture Kit here.
Typical Day
Tentative Schedule
Students must report to their virtual synchronous class via videoconferencing Monday through Thursday. Synchronous sessions will include drawing and model making demonstrations, lectures, digital design software tutorials, reading discussions, virtual office tours, virtual museum tour discussions, student presentations, and student design project evaluations with guest critics.
When class is over, and on weekends, students can look forward to various Summer College virtual activities to meet and connect with other students across the world. Check out our Virtual Campus Experience page for more information!
Virtual End Event
The course will conclude with a virtual exhibition of student work and complementary conversation with invited critics.
Faculty Bios
Session I Faculty Bio
Matthew Ragazzo
Matthew Ragazzo is a designer and researcher with an interest in material compositions, American construction culture, and ideas operating at the periphery of the discipline. He joined the Syracuse University School of Architecture faculty in Fall 2021 where he teaches first-year undergraduate design studio.
Prior to Syracuse University, Matthew taught as a teaching assistant at Rice University School of Architecture in the history and theory sequence. He has worked at design firms including MG&Co., Koning Eizenberg Architects, and Mack Scogin Merrill Elam Architects. He also worked at The Architectural League of New York, working on the League's live programming and competitions. Currently, Matthew is implementing a competition-winning design for prototypical covered bike parking on Rice University's campus.
He has worked in various capacities for publications. He assisted Reto Geiser on a forthcoming publication on the future of architectural curation and exhibition making; was Managing Editor of Young Architects 17: Authenticity and Young Architects 18: (im)permanence, publications of the Architectural League; and served as Development Director of PLAT, which received Graham Foundation funding and won Honorable Mention for the AIA's Douglas Haskell Award for Student Journals under his direction.
Matthew received his Master of Architecture at Rice University and his Bachelor of Science in Public Health at the University of North Carolina at Chapel Hill where he received a Carolina Undergraduate Health Fellowship.
Session II Faculty Bio
Emily Pellicano
Emily Pellicano's academic background spans three architectural disciplines, from landscape architecture to architecture and interior design. Emily is an alumni of the Syracuse University School of Architecture graduate program, receiving her Master of Architecture I, following her Bachelor of Fine Arts in Interior Design from The Syracuse University College of Visual and Performing Arts and after nearly 20 years of teaching and practicing architecture and interior design, Emily recently graduated with distinction from the Southern California Institute of Architecture with a Master of Science in Synthetic Landscapes.
Emily has taught architectural and interior design courses at Syracuse University, Hobart and William Smith Colleges, Marywood University, with a focus on core curriculum design studios and electives in representation, drawing and color.
Emily's recent work engages machine learning in the architectural disciplines, specifically in developing synthetic ways of seeing and imaging the built environment that are congruent with contemporary modes of social, economic and computational media such as video game and blockchain technologies.
---
Additional courses you might like…