Nazrun Chowdhury can't believe that the Charles Hayden Foundation was willing to spend its money sponsoring "a kid from the Bronx." The foundation provides grants that focus on helping youth develop the skills and knowledge needed to succeed in school and lay the foundation for satisfying and productive lives. This year, the foundation sponsored 20 Syracuse University Summer College students.
Chowdhury, a senior at Marble Hill School for International Studies, says this was not his first experience in a Summer College Program. "Last summer I took classes at Marist College for two weeks," he says. "Although that was fun and challenging, it was nowhere near as rigorous and exciting as the Summer College program at Syracuse University."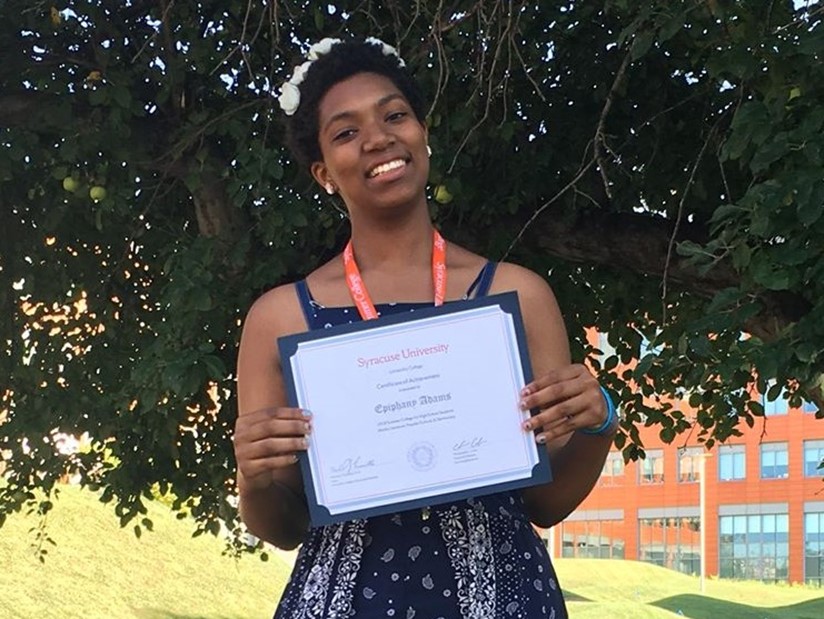 Epiphany Adams, a senior at Frederick Douglass Academy in New York City, holds a certificate of completion from the Summer College program at Syracuse University. The Summer College Program offers both credit and non-credit options for students to engage in rigorous college courses over a two to six-week period. The students sponsored by the Charles Hayden Foundation earned college credits during their six weeks on campus. While many of the students found the coursework demanding, they also learned the skills they need to be successful in college and in life. Chowdhury says the benefits of the Summer College program far outweighed the challenges he faced balancing homework, the rigors of schoolwork and socializing with his new friends. "The classes I took forced students to be open with their own opinions and creative minds. I was forced to listen to different perspectives—something I wasn't normally exposed to in the Bronx," says Chowdhury. "Listening to other people's thoughts and experiences from around the world molded me into a more mature and critical-thinking individual."
This year, 501 students from 35 U.S. states, Puerto Rico and the Virgin Islands—as well as 70 students representing 19 foreign countries—attended Summer College.
Epiphany Adams, a senior at Frederick Douglass Academy in New York City, agrees that the Summer College experience was more difficult than expected. She thought that taking Advanced Placement courses in high school prepared her for the coursework and academic requirements of college but soon learned that she was not as prepared as she hoped.
"My eyes were opened to the realistic rigors of college life," she says. "The program is not an imitation of college, it is college." When she was feeling overwhelmed, Adams took Professor Jeffery Mangram's daily advice to heart: "just keep going."
Adams was also concerned she wouldn't fit in, but found that attending the program helped her become a more social person. "I was immediately accepted for who I was. I wasn't afraid to be myself," she adds.
"Summer at Syracuse not only opens a window of experience for rising seniors to see what college demands from you and what it takes for you to go the distance, it really opens your eyes what college life is like," adds Chowdhury. "I was excited and humbled that the Charles Hayden Foundation gave me this opportunity. I know not everyone receives this privilege."
After experiencing Summer College, Adams and Chowdhury returned home with an arsenal of tools to succeed in college—time management, discipline and discovering that they could be comfortable in a global culture.
"I'm so thankful for a program that helped me grow personally and academically," says Adams. "If I could, I would rewind time and do it all over again.