When Horane Daley from DeWitt Clinton High School in Bronx, New York, learned he was selected to participate in Syracuse University's Summer College Program for High School Students, he was very grateful for the opportunity. "I was ecstatic (when I was chosen)," he says. "I was proud of myself for doing the essay and getting through the interview."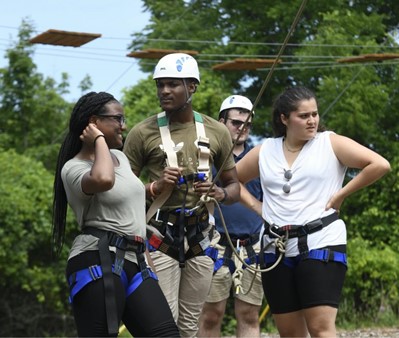 Daley was one of 25 students selected to attend Syracuse University through the generosity of the Price Family Foundation.
The Price Family Foundation, a philanthropic organization based in New York, provides funding for higher education, children's services and hospitals. For three years, the foundation has provided opportunity to New York City students to attend the Summer College Program.
Summer College offers both credit and non-credit options for students to engage in rigorous college courses over a six-week period. While many of the students found the coursework challenging, they also learned the skills they need to be successful―managing their time, working hard, and having the discipline to follow through on assignments in a short period. This year, 501 students from 35 U.S. states, Puerto Rico and the Virgin Islands―as well as 70 students representing 19 foreign countries―attended Summer College.
Daley took part in the Team and Leadership and Launching a Business programs. The Team and Leadership Academy challenges students to safely expand their comfort zone, test their understanding of what it means to be a member of a team, and develop communication skills. "The experience has been amazing," says Daley. "I've met great people and have formed bonds in a short period of time. I've made friends that will last a lifetime." Daley says the high ropes course taught him how to communicate in a team setting: "I learned to be a leader."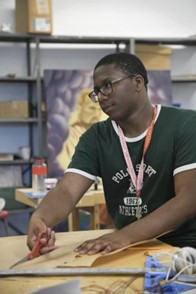 Hoyte, who plans to major in computer engineering, thoroughly enjoyed making a 3D Bluetooth device in ComArt in the College of Visual and Performing Arts. "The creativity of the course allowed me to open my mind to different things," Hoyte says. "The experience also gave me the opportunity to do a lot of networking. It's been a wonderful experience, and I've met some wonderful friends."
Both students believe that being away from home will help them navigate a college campus in the future. "The experience teaches you college readiness and the maturity you need to do the work," Hoyte says. "The opportunity given to me by the Price Family Foundation warms my heart."