Course Overview
The high school years are a time of self-discovery. You're figuring out who you are, where you're going, and what you want to do with your life. In this course, you will learn how writing can assist you in this process, and you will come away with a virtual toolbox of skills that you can take with you wherever you go, as well as artifacts of your process: a portfolio of your stories, an ideas journal, a vision board, and a plan of action for your future.
We are neurobiologically hardwired to make meaning out of our lives through personal narratives. When something happens to us, our brain wants to make sense of it through story. These stories we tell ourselves shape our identities – they influence how we feel about ourselves, others, and the world around us. From broader cultural stories passed down through generations that teach us what is expected of us as part of a larger group – to personal narratives that shape our individual identities. Storytelling is an integral part of our lives. This course is about becoming aware of these stories, and taking charge of them, so that you can live a purpose-driven life that is fulfilling and personally meaningful.
By the end of this pre-college course, you will not only have explored this concept of storytelling and identity (or what's called "narrative identity theory"), but you will have also applied it by writing your own story (past, present and future) and creating a vision for yourself – a blueprint for your life that gives you direction, meaning and purpose.
Through a combination of synchronous and asynchronous online learning, you will have lots of opportunities to think about your place in the world while using writing (storytelling and personal narratives) to get you there – all while becoming proficient at using Blackboard, Syracuse University's online learning tool, and learning to interact, communicate and collaborate in an online classroom.
All students who successfully complete the course will receive a Certificate of Completion and have the opportunity to request a Syracuse University noncredit transcript.
Course Topics
As a result of successful course completion, students will:
Understand the theories behind storytelling and identity
Apply these theories to their own lives
Explore their own identities through writing
Develop tools to reflect, process, and make positive meaning out of their life experiences
Course Information
Course Prefix and Number: SCN 068
Format: Online
Eligibility: Students must be of rising high school sophomore, junior, or senior status – or a 2022 high school graduate.
Credit: Noncredit
Grading: Pass/Fail
Cost: $2,500
Program rates are subject to change and will be approved by the board of trustees. Discounts and scholarships are also available.
---
Program Information
Summer College – Online: Explore college life before stepping foot on campus! High school students can enroll in a college-level course, pursue their academic interests, and meet likeminded students in daily virtual events and activities.
---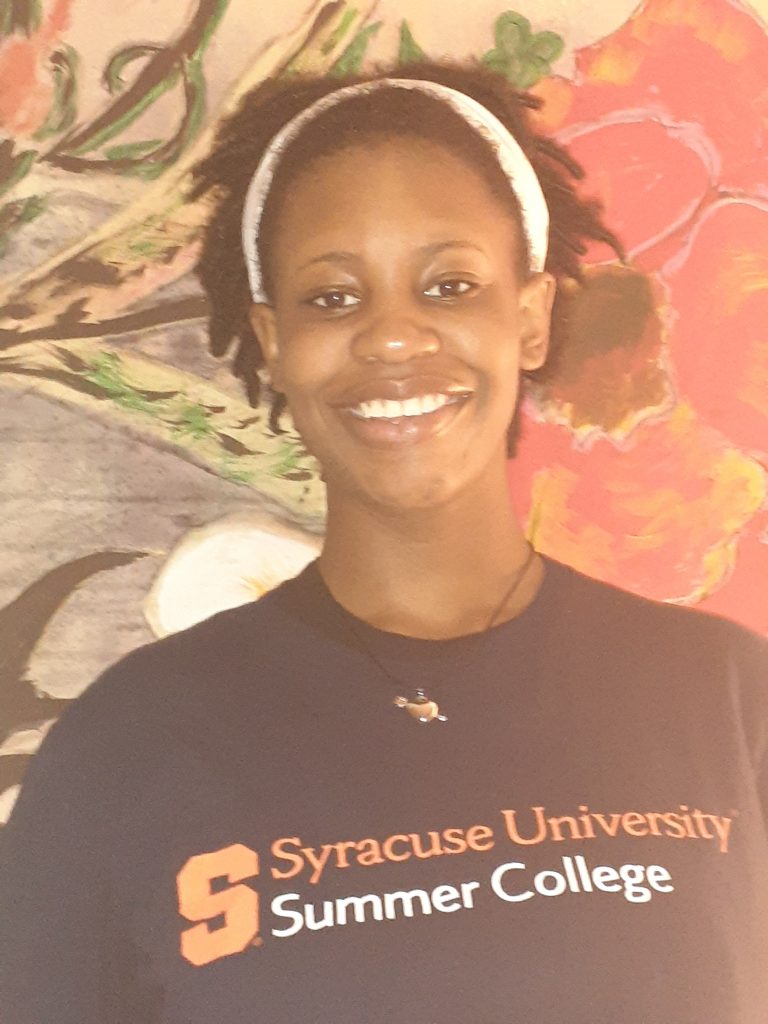 "The course I enrolled in during Summer College – Online was something that truly took me onto a road of self-discovery. I discovered much about myself and my social behaviors. I am extremely thankful for the personal and educational view Syracuse's Summer College has granted me, and I would love for others to experience the same. "

— Aliea M., Summer College – Online Storytelling and Identity Student, 2020
---
Course Dates and Details
Program
Course Dates
Synchronous Class Time (Eastern Time)
Credit/Noncredit
Status
Summer College – Online
6-Week Session: Tuesday, July 5 – Thursday, Aug. 11, 2022
TTh
6-7 p.m.
Noncredit

Open
Class times subject to change.
---
Course Requirements
Technology Requirements
Laptop or desktop computer with a webcam and mouse
Reliable internet access
A space conducive to taking an online class (without distractions)
Required Supplies
Students should budget for required textbooks and supplies. A supply and textbook listing will be sent to students before the start of the program.
Student Expectations
Students are expected to engage in class wholeheartedly, to maintain an open mind and welcome new ideas, and to be courageous in their exploration of self.
Typical Day
Tentative Schedule
Students are required to attend a live synchronous class on Tuesdays and Thursdays, from 6 p.m. to 7 p.m.
When class is over, and on weekends, students can look forward to various Summer College virtual activities to meet and connect with other students across the world. Check out our Virtual Campus Experience page for more information!
Faculty Bios
Nicole Moss Underwood
Nicole Moss Underwood is a Professional Writing Instructor in the Department of Writing Studies, Rhetoric and Composition at Syracuse University. She is also an adjunct professor in the Department of Communications and Humanities at the State University of New York Polytechnic Institute, and a freelance writer for Advance Media New York which publishes the Post-Standard, Central New York Magazine, NYUP.com, Syracuse.com and the Visitor's Guide. She earned her B.A. in Television and Radio Production and Broadcast Management from Michigan State University in 1990 and her M.F.A. in creative writing, specializing in creative nonfiction, writing therapy, and storytelling and identity from Syracuse University in 2001. Her interest in using writing as a tool for self-discovery began when she was serving in the U.S. Peace Corps. She taught English as a Second Language in a rural village in Rwanda, Africa for two years. During this time, she discovered the power of writing to shape our lives, and she has continued to explore how this works by studying inhibition/confession theory, narrative identity theory, autobiographical memory, and learned optimism. With training in outdoor adventure education, she is an advocate for adventure-based experiential learning. She facilitates an interactive, collaborative, hands-on learning environment, and she believes in integrating "play with purpose" into the classroom – and having fun!
Evan Davis
Evan Thomas Davis is a first-year graduate student in social work at Syracuse University. He received his bachelor's degree in criminal justice from RIT in May 2019. Evan's interest in storytelling started early in life. His father was a griot: a traveling musician and storyteller in West Africa who kept the art of orating history alive. When his father came to the United States, he passed this tradition on to Evan. Ever since, he has experimented with storytelling through different media such as writing, filmmaking and photography. His favorite stories include, the West African folklore, Anansi the Spider; Where the Wild Things Are, by Maurice Sendak; and The Odyssey and The Iliad, by Homer.
---
Additional courses you might like…