Course Overview
The process of applying to college can be overwhelming. Not only do high school students need a stellar SAT score, they need to figure out which college is the best fit for them, learn how to interview with admissions officers, and complete the necessary steps to apply to every college on their list. Summer College's SAT & College Prep Intensive will help students with each of these crucial steps. Students will finish the program with the confidence and tools needed to navigate the college application process.
To prep for the SAT, students in this program will take part in virtual classroom instruction on study plans and test techniques, and they will receive feedback on practice tests. Syracuse University Summer College's Test Prep program partners with Educational Testing Consultants, a leader in higher education test preparation. Each year, Educational Testing Consultants helps thousands of students prepare for the important pre-college standardized tests at major colleges and universities across the United States. Educational Testing Consultants provides a proven program with a record of success and highly trained, top-quality instructors.
During the college admissions portion of the program, students will learn college search strategies. They will also receive instruction on how to craft high-quality essays and resumes that stand out to admission committees, and techniques to shine during an admissions interview. They will learn how to maximize a campus visit, both virtually and in-person. Recruiters from various schools and colleges at Syracuse University will also share what they are looking for in applicants and the red flags they see on applications.
All students who successfully complete the course will receive a Certificate of Completion and have the opportunity to request a Syracuse University noncredit transcript.
Course Objectives
Build a plan for preparing and studying for the SAT
Learn test-taking skills related to the SAT, which include becoming familiar with question formats, process of elimination, informed guessing, and time management
Improve SAT scores
Strategize the college search process in order to find the right institution
Learn the do's and don'ts of the college application process and its various components from college admissions professionals
Take part in practice admissions interviews and a mock admissions committee
Course Information
Course Prefix and Number: SCN 052
Format: Online
Eligibility: Students must be of rising high school sophomore, junior, or senior status – or a 2022 high school graduate.
Credit: Noncredit
Grading: Pass/Fail
Cost: $2,500
Program rates are subject to change and will be approved by the board of trustees. Discounts and scholarships are also available.
---
Program Information
Summer College – Online: Explore college life before stepping foot on campus! High school students can enroll in a college-level course, pursue their academic interests, and meet likeminded students in daily virtual events and activities.
---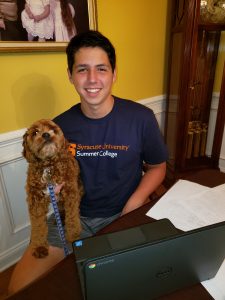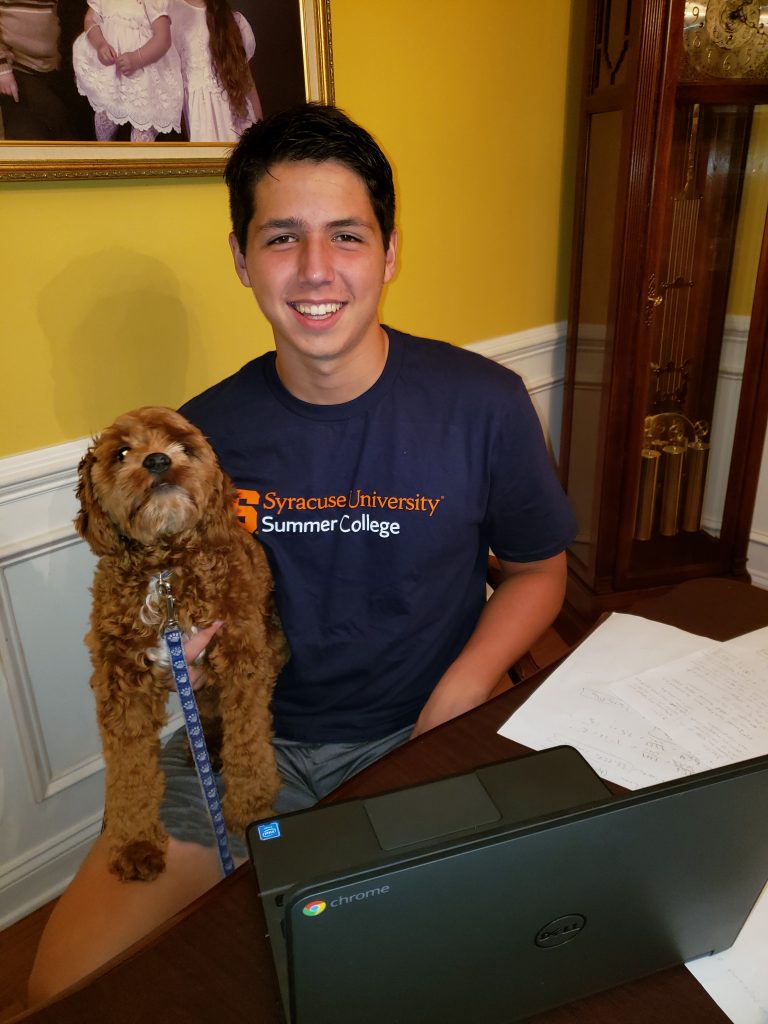 "The virtual aspect of the program made the class easier to fit into my schedule (I took the class while working as a lifeguard). Overall, I felt it was a great experience, and one of the best things I could have done during this past summer!"

— Christopher S., Summer College – Online Student, 2020
---
Course Dates and Details
Program
Course Dates
Synchronous Class Time (Eastern Time)
Credit/Noncredit
Status
Summer College – Online
3-Week Session II: Tuesday, July 25 – Thursday, Aug. 11, 2022
MTWTh
6-8:50 p.m.
Noncredit
Closed
Class times subject to change.
---
Course Requirements
Technology Requirements
Laptop or desktop computer with a webcam and mouse
Reliable internet access
A space conducive to taking an online class (without distractions)
Student Expectations
Students are expected to be on-time to synchronous classes, complete all homework, and behave courteously towards any guest speakers.
Typical Day
Tentative Schedule
Students are in class Monday-Thursday, 6-8:50 p.m. EST. Days will begin with test prep, and end with admissions workshops on a variety of topics.
When class is over, and on weekends, students can look forward to various Summer College virtual activities to meet and connect with other students across the world. Check out our Virtual Campus Experience page for more information!
Faculty Bios
Jennifer Mathews: Admissions Director at Syracuse University
Jennifer Mathews has a B.A in history and East Asian studies from Indiana University and an M.F.A. in film production and directing from Chapman University. She joined Syracuse University in 2016 and currently serves as the director of international admissions. Previously, she has worked for Hamilton College, DePauw University, IUPUI (Indiana University-Purdue University Indianapolis), and Indiana University-Bloomington, and has been in the field of international admissions and enrollment management for over thirteen years. She is a passionate advocate of international education. Her own study abroad experiences in Ireland, Japan, and France inspired her to further her career aspirations in this field.
---
Additional courses you might like…