Course Overview
This 3-week pre-college program for rising high school juniors and seniors develops the abilities of experienced performers who are serious about musical theater and eager to work hard. Focusing on process more than product, we will focus on developing the technique and skills needed for singing, acting, and dancing in Musical Theater. Faculty members from the renowned Syracuse University Department of Drama will engage with students in varying online formats, with an eye toward helping students choose appropriate material for college admission auditions.
Course Topics
Students in the Musical Theater at Syracuse program will:
Gain a strong understanding of the work entailed in the rigorous Syracuse BFA program
Improve skills for collegiate auditions
Grow in creativity and confidence as performers
Expand curiosity about and knowledge of the musical theater repertoire
Find joy and rewards in the processes and outcome of their work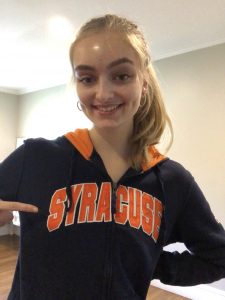 "When I initially began the Syracuse Summer College Musical Theater Program, I wondered whether the renowned M.T. department would be able to reach and inspire students through an online format. Over the course of three extremely rewarding weeks this past July, I received a resoundingly positive answer to my question: yes. The faculty's balancing of their impressive skill set with genuine enthusiasm and determination to help students improve made the program so rewarding that I no longer questioned learning through an online platform. The professors were understanding and encouraging, creating a safe and fun environment where each student learned how to be the best performer (and person) possible. The faculty meticulously dove into our artistic material with specific analysis and helpful one-on-one feedback. In short, I fell in love with Syracuse and everything it stands for, especially individuality, commitment, community, and school pride. Through the program, I gained confidence in my craft. I am very proud to have been a part of such a challenging, balanced, friendly, and meaningful program, which fit perfectly into the University that shared the same values."

— Margo S., Summer College Online Musical Theater student, 2020.
---
Course Information
Course Prefix and Number: SCN 035
Eligibility: Students must be of rising high school junior, or senior status – or a 2021 high school graduate.
Audition Requirement: Students are required to submit audition pieces with their Slideroom Application. Auditions should include the following video submissions:
Two contrasting songs (each approximately one-minute in length)
One age-appropriate monologue
You should be the only person seen on the video. Submission of high school or other group productions is not admissible. The audition is submitted online with your application via SlideRoom. Instructions are provided in the application. Each component of the audition should be approximately one minute in length.
Credit: Noncredit
Grading: Pass/Fail
Cost: $2,500
Program rates are subject to change and will be approved by the board of trustees. Discounts and scholarships are also available.
---
Program Information
Summer College Online: Explore college life before stepping foot on campus! High school students can enroll in a college-level course, pursue their academic interests, and meet likeminded students in daily virtual events and activities.
---
Course Dates and Details
Program
Course Dates
Synchronous Class Time (Eastern Time)
Credit/Noncredit
Status
Summer College Online
3-Week Session I:
 July 19 – August 6, 2021
MTWThF
12PM – 6PM
(3 to 5 hours per day)
Noncredit

Open
---
Course Requirements
Technology Requirements
Laptop or desktop computer with a webcam and mouse
Reliable internet access
A space conducive to taking an online class (without distractions)
A smartphone or tablet for playing audio tracks
We recommend inexpensive open-back headphones, and a USB speaker for the best sound experience
Student Expectations
Students in the Musical Theater program are expected to:
Display a commitment to the ongoing development of the physical instrument
Possess the ability to communicate effectively and clearly with teachers, and fellow students
Come to synchronous class with imagination, creativity and a willingness to explore
Identify personal physical and aesthetic challenges, habits, tendencies
Demonstrate professionalism in attitude and behavior
Typical Day
Tentative Schedule
Students will be required to attend a virtual synchronous class Monday – Friday from 12(noon) – 6:00pm Eastern Time. A number of evening workshops will also be included. Click here to view the 2020 schedule as a sample. All classes are taught by current faculty of the Department of Drama. Several current Drama students will be on staff for extra help and fun evening activities.
When class is over, and on weekends, students can look forward to various Summer College virtual activities to meet and connect with other students across the world. Check out our Virtual Campus Experience page for more information!
Faculty Bios
Rebecca J Karpoff
Rebecca is a Professor of Musical Theater Voice and Assistant Program Coordinator for Musical Theater at Syracuse University. A soprano with a DMA from the Eastman School, she has sung in opera, symphonic concerts, chamber music, recitals, and cabaret around the world. For the past 15 years, she has specialized in Musical Theater vocal technique as coordinator of Vocal Instruction in the Department of Drama, where she teaches courses on vocal physiology and health, musicianship skills, private voice lessons, and Advanced Musical Theater Repertoire. She has also directed and/or music directed numerous Department projects, from established full-length musicals to new works, devised works, and student cabarets.
---
You may also be interested in the following courses: