Course Overview
New for 2022!
Critical writing is too often dismissed as purely reactionary, parasitic, an exercise in hating. But we can learn a lot about a society by the stories it tells about itself and the way those stories are received (or rejected or re-framed). Through a combination of lectures, small-group writing workshops, readings, guest speakers and virtual group outings, this course will examine criticism from all angles: the practice, the theoretical approaches, the evolving formats.
Critical writing requires critical thinking. As such, we will read a lot, we will write a lot, and we will talk a lot – all with an eye toward strengthening your writing, finding your voice, and building your arguments.
All students who successfully complete the course will receive a Certificate of Completion and have the opportunity to request a Syracuse University noncredit transcript.
Course Objectives
More info coming soon!
Course Information
Course Prefix and Number: TBD
Format: Online
Eligibility: Students must be of rising high school sophomore, junior, or senior status – or a 2022 high school graduate.

Credit: Noncredit
Grading: Pass/Fail
Cost: $2,500
Newhouse Scholarship:
A course-based scholarship opportunity is available to students who apply for pre-college courses out of the Newhouse School. Applicants who select a Newhouse course will automatically be considered for the Newhouse scholarship without the need for an additional essay.
Program rates are subject to change and will be approved by the board of trustees. Discounts and scholarships are also available.
---
Program Information
Summer College – Online: Explore college life before stepping foot on campus! High school students can enroll in a college-level course, pursue their academic interests, and meet likeminded students in daily virtual events and activities.
"Beyond the academic aspects of the Summer College, I was enthralled by the initiative the administration took to create a sense of community within the program. During quarantine, I found it very difficult to connect with friends and family. However, the daily events and games hosted by Syracuse gave me something to look forward to and allowed me to meet so many different people."

– Abhi K., Summer College – Online Student, 2021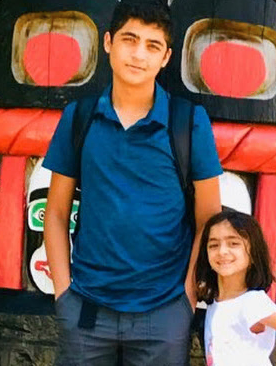 ---
Course Dates and Details
| Program | Course Dates | Synchronous Class Time (Eastern Time) | Credit/Noncredit | Status |
| --- | --- | --- | --- | --- |
| Summer College – Online | 3-Week Session II: Monday, July 25 – Thursday, Aug. 11, 2022 | TBD | Noncredit | Open |
---
Course Requirements
Technology Requirements
Laptop or desktop computer with a webcam and mouse
Reliable internet access
A space conducive to taking an online class (without distractions)
Required Supplies
Students should budget for required textbooks and supplies. A supply and textbook listing will be sent to students before the start of the program.
Typical Day
Tentative Schedule
Students will be required to attend live synchronous class via videoconferencing. More info coming soon.
When class is over, and on weekends, students can look forward to various Summer College virtual activities to meet and connect with other students across the world. Check out our Virtual Campus Experience page for more information!
Faculty Bios
Eric Grode
Eric Grode is a regular freelance theater critic and reporter for The New York Times. He previously served as the head theater critic for The New York Sun and Broadway.com, and his articles and reviews have also appeared in The Village Voice, New York magazine, The Wall Street Journal, Time Out New York, The Boston Phoenix and more than a dozen other publications. He has received fellowships from American Theatre magazine and the American Theater Critics Association.
Grode has held full-time editorial jobs at TV Guide, Good Housekeeping and XXL (where he served as managing editor). He is the former vice president of the New York Drama Critics Circle and the author of two books: "Hair: The Story of the Show That Defined a Generation," the authorized history of the Broadway musical, and "The Book of Broadway: The 150 Definitive Plays and Musicals."
In addition to his work with the Goldring Arts Journalism Program, with which he has been affiliated since 2007, Grode has taught at Lehman College and the University of Rochester Medical School.
Rawiya Kameir
A writer, editor and critic, Rawiya Kameir was a finalist for a 2020 National Magazine Award in the Essays and Criticism category for three reviews published in Pitchfork. Kameir has served as deputy editor at The Fader and culture editor at The Outline. She has covered Tiffany Haddish, profiled Cardi B, interviewed Erykah Badu, reviewed Nicki Minaj and written about her own peripatetic upbringing in Sudan, Côte d'Ivoire, Tunisia, Cairo and Canada. She earned a B.A. in professional writing from York University in Ontario and an M.S. in journalism from Columbia University, where her thesis focused on members of New York's queer Muslim community.
---
Additional courses you might like…