Course Overview
The Environmental & Interior Design summer pre-college program introduces high school students to design principles and methods focused on the built environment. Through the exploration of the art and architecture of environmental design, students will learn about the expanding practices of interior architecture, interior design, and spatial design. This program uses the city as a laboratory to investigate the historical, cultural, and behavioral impacts of design.
Students work closely with faculty to develop research, ideation, iteration, and making skills within a broader context. Individual exercises engage form, space, time, and movement in a project developed through a structured conceptual process. Field documentation, drawing, diagramming, and model-making are supplemented by group discussions of contemporary issues impacting the built environment. Projects include both two- and three-dimensional works employing line, shape, color, texture, and space essential for college admissions portfolios intended for a range of design disciplines.
Course Objectives
Improve awareness in the environmental design and interior design
Expand and improve your design portfolio for college application
Improve your design skills in both 2D and 3D works
Experience the Environmental and Interior Design program at entry level
Course Information
Course Prefix and Number: SCN 033
Eligibility: Students must be of rising high school sophomore, junior, or senior status – or a 2021 high school graduate.
Credit: Noncredit
Grading: Pass/Fail
Cost: $2,500
Program rates are subject to change and will be approved by the board of trustees. Discounts and scholarships are also available.
---
Program Information
Summer College Online: Explore college life before stepping foot on campus! High school students can enroll in a college-level course, pursue their academic interests, and meet likeminded students in daily virtual events and activities.
---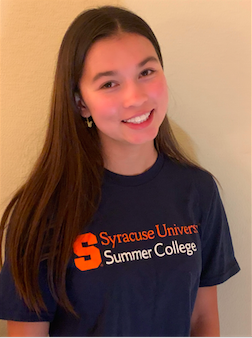 "Syracuse University Summer College Online was a real eye-opening experience for me. I've always been interested in design, but truth be told I didn't know much at all about it. In my 3-Week Environmental and Interior Design class, I picked up more information and tips and tricks than I ever expected going in. I'm taking a design course in school this year, and I'm already far ahead of the rest of the class because of the knowledge I gained over the summer. Professor Lee was so kind as well as the TA's and they never hesitated to give us as much help as possible."

— Nina L., Summer College Online Environmental and Interior Design Student, 2020
---
Course Dates and Details
Program
Course Dates
Synchronous Class Time (Eastern Time)
Credit/Noncredit
Status
Summer College Online
3-Week Session II: August 9 – August 27, 2021
MTWThF
11AM – 12:30PM
Noncredit

Closed
---
Course Requirements
Technology Requirements
Laptop or desktop computer with a webcam and mouse
Reliable internet access
A space conducive to taking an online class (without distractions)
Required Supplies
Students should budget for required textbooks and supplies. A supply and textbook listing will be sent to students before the start of the program.
Student Expectations
Students are expected to have high energy, an open mind, and be ready to see and examine environment with a new perspective!
Typical Day
Tentative Schedule
Students must attend live synchronous online sessions Monday – Friday, 11:00am – 12:30pm EDT.
When class is over, and on weekends, students can look forward to various Summer College virtual activities to meet and connect with other students across the world. Check out our Virtual Campus Experience page for more information!
End Event
A final poster session will occur on the last day of class. Students will perform a presentation of their design.
Faculty Bios
Seyeon Lee, PhD – Assistant Professor, School of Design
Seyeon Lee is an assistant professor in the School of Design. Prior to joining Syracuse University, Lee taught foundation design studios at the Texas A&M University School of Architecture. Before entering academia, she worked as an architectural and interior designer and project manager in the offices of Clifford Planning and Architecture (Hawaii) and MG2 (Seattle) for over fourteen years. Lee's professional portfolio includes residential, commercial, retail, hospitality, and urban planning projects in the United States, South Korea, Japan, and Taiwan. She is a NCIDQ certified interior designer and a LEED Accredited Professional.
Lee holds a bachelor's degree in environmental design, a master's degree in architecture from Montana State University, and a Ph.D. in architecture from Texas A&M University. Her Ph.D. research focused on developing instructional strategies to improve and strengthen design education with learning objectives that include cost as an integral design determinant. Her research interests engage community architecture with an emphasis on sustainable and affordable architectural design and planning with a special focus on housing affordability.
---
You may also be interested in the following courses: