Course Overview
Communications & Society is a 6-week, 3-credit hybrid course that gives high school students the opportunity to take a college-level, credit-bearing course in the field of Communications and Mass Media at the S.I. Newhouse School of Public Communications at Syracuse University. This course is a requirement for all freshmen Newhouse students!
In COM 107 Communications & Society, students will learn about contemporary problems of the media; legal, social, economic, and the psychological implications of their relationships with society. The course that you will take is a six-week version of the very same class taught in the fall to first-year college students. The class focuses on the media industries involved in entertainment, persuasion and journalism, as well as how these industries and the people who work in them interact with democracy and the culture at large in the 21st Century. This is a foundational course for anyone going into any of the communication fields, which is why the S.I. Newhouse School of Public Communications requires all of their first-year students to take it.
The online version of this course will feature videos and web-related exercises outside of class, so that students can use their synchronous class time with the professor to discuss key issues and points raised in the readings and videos.
Students in the communications field can look forward to a broad range of job opportunities from journalism to broadcasting, advertising, and more! Facebook, Instagram, CBS, and Fox Network are just some of the companies where Newhouse grads have found their future careers.
This course is designed to introduce students to college study and the range of careers in the diverse field of communications.
All students who successfully complete the course will receive a Certificate of Completion and have the opportunity to request a Syracuse University credit transcript.
Course Objectives
Students will:
Study with faculty from the prestigious S.I. Newhouse School of Public Communications
Investigate practices of journalism, television and cable, radio, the music industry, public relations, advertising, and film; and learn about how they are changing in the Information Revolution
Enjoy guest lectures by working media professionals
Discover how interests and talents connect with the challenges of professional communicators
Be more aware of the socio-political and cultural issues defining our times which are reflected in media
Course Information
Course Prefix and Number: COM 107
Format: Hybrid (2 weeks at Syracuse University, 4 weeks online)
Eligibility: Students must be of rising high school junior, or senior status – or a 2022 high school graduate.
Credit: 3 credits
Grading: A-F
Cost:
Hybrid Residential-Online: $4,385
Hybrid Commuter-Online: $3,530
Newhouse Scholarship:
A course-based scholarship opportunity is available to students who apply for pre-college courses out of the Newhouse School. Applicants who select a Newhouse course will automatically be considered for the Newhouse scholarship without the need for an additional essay.

Program rates are subject to change and will be approved by the board of trustees. Discounts and scholarships are also available.
---
Program Information
Summer College – Hybrid: Combine on campus and online study. Experience Syracuse University on campus for two-weeks and complete the final four-weeks of your course online from the comfort of your own home – or wherever life takes you!
---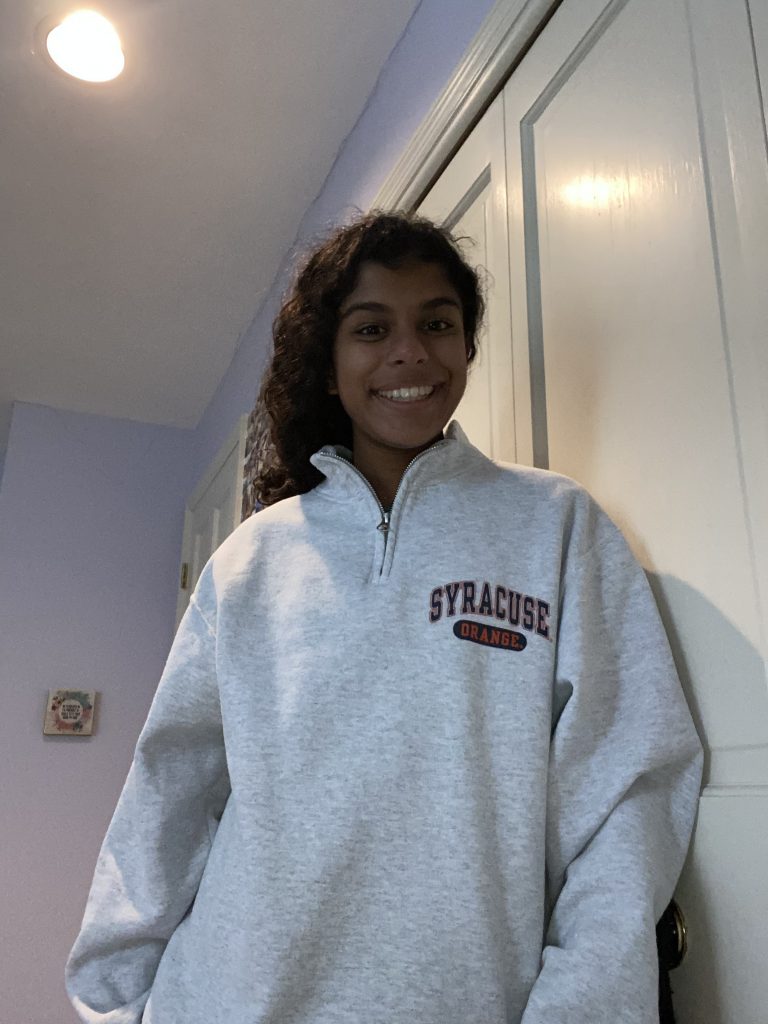 "I participated in the Communications & Society six-week class, and to say it was a great experience would be an understatement. The course challenged my thinking, pushed me to excel in my writing, and exposed me to the incredible ideas of my peers through synchronous discussions. While I never expected to say this, the homework, quizzes, essays, and tests only heightened my experience in the class as it strengthened my brain and memory on the topics we were learning."

— Hanaah J., Summer College – Online Public Communications Student, 2020
---
Course Dates and Details
Program
Course Dates
Class Time (Eastern Time)
Credit/Noncredit
Status
Summer College – Hybrid
On Campus Session: Sunday, July 3 – Friday, July 15, 2022
Online Session: Monday, July 18 – Friday, Aug. 12, 2022
On Campus Class Time: MTWThF; 10 a.m. – 2:45 p.m.
Synchronous Online Class Time: TTh; 3:30-5 p.m.
3 credits
Closed
Class times subject to change. On campus class time will have a one hour break at noon for lunch.
---
Course Requirements
Technology Requirements
Laptop or desktop computer with a webcam
Reliable internet access
A space conducive to taking an online class (without distractions)
Required Supplies
Students should budget for required textbooks and supplies.
Typical Day
Tentative Schedule
Students will be expected to attend class on campus Monday – Friday, from 10 a.m. to 2:45 p.m. with a one hour break for lunch. Once the class moves online, students will be required to attend class on Tuesdays and Thursdays from 3:30 – 5 p.m.
Faculty Bios
Brad Gorham – Chair, Communications, Director, Media Studies, Associate Professor: Communications
Brad Gorham enjoys the challenge of teaching communication theory and research to students. He feels that all students, regardless of their major, can benefit from learning more about how the media work and what effects they may (or may not) have on audiences. Gorham's research focuses on the ways people process media information about social groups, particularly how stereotypes affect the way people make sense of the media content they consume. He approaches the study of media stereotypes from both a psychological and a cultural perspective, incorporating quantitative and qualitative theory and methods to examine the way the mass media contribute to stereotyping, prejudice and discrimination. Gorham's research has been published in the Journal of Communication and the Howard Journal of Communications, and he has presented top papers at the annual conferences of both the Association for Education in Journalism and Mass Communication and the International Communication Association.
---
Additional courses you might like…